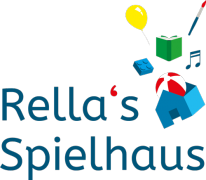 Rella´s Spielhaus  is back this summer with 8 weeks of fun and educational summer camps in the UWS for 2,5-9 year olds.
In addition to fun packed weeks with lots of crafts, movement games, story time and more the kids will enjoy outdoor time in Central Park each day. Weather permitting we'll have lunch in the park and after that kids can rest on a blanket or run around and play with our outdoor coach.
PROGRAM (daily schedule):
9am – 9:15am: Arrival, sign in
9:15am -10am Welcome Song, ABC, counting, recounting of previous day's activities
10 – 10:30am bathroom break, snack
10:30 – 12pm: Work on weekly theme: sing, dance, arts & crafts
12- 2:15pm: Central Park, Riverside Park or playground, where we have lunch, free play and outdoor activities.
Zwerge will be picked up where ever we will have lunch weather permitting. (Central Park, Playground or Studio)
2:40pm: Arrival at Studio. Clean up, recount the adventures of the day, good by song
3:00pm: Dismissal
NEW! Introducing 3 age groups: 2.5-4yrs; 4-6yrs; 7-9yrs
ADDED VALUE: For an additional $100, we will conduct a 30-minute reading analysis with your child during camp hours. You will receive a 2-page report and we will discuss what we have learned about the child's understanding of the German Language with a parent.
Week 1 | July 10th – 14th: Biene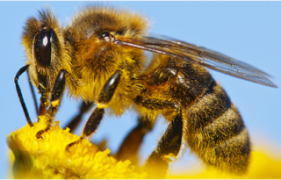 Along the fun story of "Die Biene Maya" we will learn the catchy title song of the German TV series and Csilla will teach a buzzing choreography. We will also learn about the fascinating and sophisticated organization of a beehive and how honey is made.
We will also explore and discuss ways how we can safe the bees from disappearing. The The 7-9 year old will create a "Bienen Poster" where they will teach the little ones about the inner workings of a bee hive.
Week 2 | July 17th  – 21st: Feuerwehr
This week will be dedicated to the Feuerwehr, a vital part of our beloved City. We will look at what fire is, how we prevent it, we will get to know people who work for the Fire department, and get an understanding of the fitness and strength needed in order to fight a fire.
The kids get to play with fire trucks, draw "Schablonen", learn a fun and challenging fireman choreography of Feuerwehrmann Sam; we will have costumes available and visit the Fire Museum in Soho.
Week 3 | July 24th  – 28nd: Mein Lieblingstier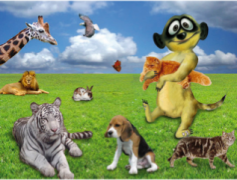 Children can be very specific about their favorite animal. If that's the case, we will investigate its habitat, diet, the way it moves. The smaller kids will draw their favorite animal on a huge piece of paper with finger paint, the bigger ones will additionally compose a diary of their Lieblingstier.
We will also compose a tune that fits your child's Lieblingstier's character.
Week 4 | July 31st – Aug 4th: Die Schöne und das Biest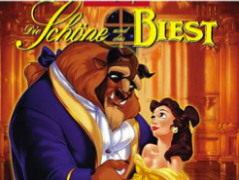 Chances are that your child has seen the movie and we are ready to re-enact some of the scenes. Csilla will come up with a pas-de-deux where two children will learn a choreography together -all of that, of course, in German! In order to dig deeper into the story, we will also investigate what the children define as beautiful. Is it, a feeling, , a dress, a computer game? And – as always – the older children will get the chance to learn how to put their thoughts on paper in German.
Week 5 | August 7th– 11th: Eiskönigin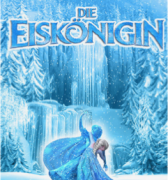 We are excited to offer a week of "die Eiskönigin" again which was a great success last year. We will deeply explore the well-known story in German, learn about what it might mean to be FROZEN, and we'll let loose and dance too!  And because not every child will want to play Elsa or Anna, everybody can pick and choose who they want to be, Human, Animal, Olaf or even the swirly ice winds Elsa evokes.
Every child gets to create a special accessory/prop to the character they have chosen that they can include in the choreography.
Week 6 | August 14th – 18th: Baustelle
There is so much to discover at a "Baustelle". With the help of "Bob, der Baumeister" the younger ones will discover the names of all the machines and jobs needed in order to fix the streets. The older ones will do research on site and put a Poster together of what a Baustelle actually is. Of course, the children will be supported by a vast array of materials (books, songs, toys…).
Week 7 | August 21st – 25th: Pinocchio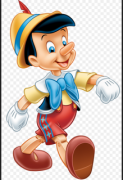 Every child can relate to the wonderful story of the marionette who after he has proven himself brave, truthful and unselfish is transformed into a real boy. We will read the story of old Geppetto, the creator of Pinocchio and the adventures both have to go through to be united again at the end. We will learn the title Song "Pinocchio – kleines Püppchen" and create our own Pinocchio out of papier-maché.
Week 8 |August 28th – September 1st: Dschungelbuch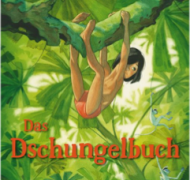 We will read Mogli's story together and incorporate a fun choerography of "Probier's mal mit Gemütlichkeit" – such a catchy song to learn for the kids. And as you might recall, Mogli and his friends eat lots of healthy fruit! Through research in books, we will learn everything about our favorite fruits i.e. where and how they grow.
Every child will get to buy their favorite fruit and explain to the group why it loves that particular fruit so much.
GENERAL INFORMATION:
Please bring a water bottle, lunch, a bathing suit and a towel for your child. Please let us know if you child has any allergies. If we have highly allergic children, we will make the course nut-free. Otherwise, nut pastes are allowed. Please no whole nuts!
You will get a video of your child's final presentation late on Friday afternoon.
Merken
Merken
Merken
Merken
Merken
About Barbara Rellstab:
Barbara was born and raised in Zurich, Switzerland. Growing up in a theater family sparked her interest for the performing arts early on and she decided to follow the footsteps of her late father.  After 5years as actor/singer on German and Swiss Stages Barbara came to New York in 1997. She performed extensively Off-Boradway (lead role in "The Donkey Show"), founded the International Department at the Internationa Fringe Theater Festival (fringenyc.org), and taught voice and Gyrotonic.
When her son Oliver was born in 2009, Barbara sensed the need for a "Mommy and Me" story time format in German. And in 2010, "Lieder & Geschichten" (today's Kinderklassen) was born, first as pic-nic in Central Park, then at the Harlem Library and soon in Studios from Brooklyn to White Plains.
Today, the Kinderklassen serve more than 50 families each semester. Together with  Rella's Spielhaus (Manhattan's First German Language Immersion Day Care) with 15 enrolled children, the Summer Intensives that are in their 3rd year, and last but not least the meet up group with 250 members, the Rella's Brand has grown every year. The Rella's team is deeply committed to the Manhattan German Language Community and proud to offer a first rate service to all our children.
Testimonials
No Reviews yet. Be the first one!

Want to become
a testimonial?
You loved the event, service or product? Like to recommend it? Just send us your review.
Write review


Planning your
own event
If you have a great party or event idea for the CityKinder community, let us know!
Send us a mail