Follow our CityErleben blog to get periodic updates on the best activities with or without your kids like museums, playgrounds, festivals, free programs, day trips and weekend excursions. Get the best out of NYC tested by fellow CityKinder Moms & Dads and our contributors.
Thanksgiving 2016 – Macy's Parade and more
November 15th 2016, 10pm
comments: 0
Thanksgiving steht vor der Tür, ein Feiertag, der in Deutschland nicht gefeiert wird, in Amerika aber sehr wichtig ist. "Balloons over Broadway" von Melissa Sweet ist ein tolles Kinderbuch, dass die Geschichte der Macy's Parade beschreibt. Ein Erlebnis für gross und klein!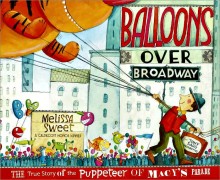 Die Macy's Thanksgiving Parade selber ist jedes Jahr am Thanksgiving Morgen von 9 Uhr – ca. 11 Uhr. Sie geht von der 77th Street die Central Park West runter bis  zum Columbus Circle, biegt dann in die Central Park South ein und  läuft die 6th Avenue weiter bis zur 34th Street (Herald Square) praktisch vor die Türe von Macy's. Da es an allen Abschnitten immer sehr voll ist, sollte man schon früh dort sein – auf einigen Websites wird so geraten, ab 6:30 eine Platz zu reservieren …..
Tipp: Gerade mit kleinen Kindern ist es nahezu unmöglich 2,5 Stunden vor der Parade da zu sein, um einen guten Platz zu bekommen. Daher schwören einige New Yorker darauf, lieber das vorgelagerte Spektakel mit Kindern anzusehen: am Tag vor der Parade – also dieses Jahr  am 24.  November 2016 – kann man das Aufblasen der Ballons ansehen. Um das American Museum for Natural History herum kann man von 15 uhr bis 21 Uhr zusehen, wie die Figuren langsam ihre volle Pracht entfalten. Allerdings scheint es auch dort inzwischen sehr voll zu sein – also bitte die Platzangst zu Hause lassen!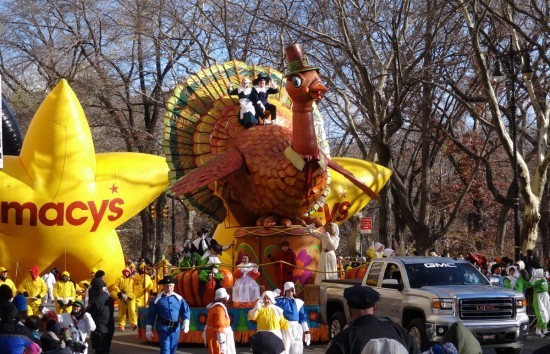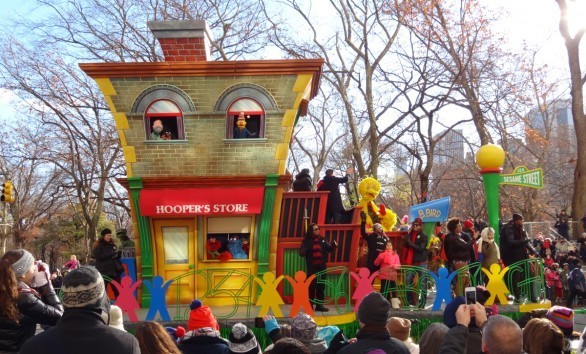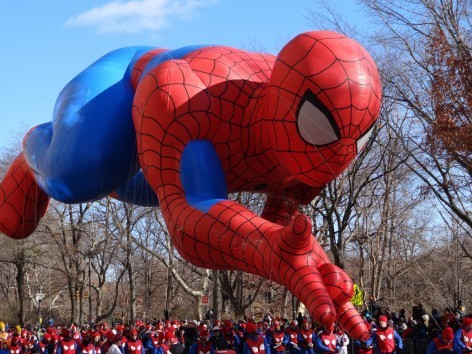 Hier nochmal zusammengefasst:

Die Macy's Thanksgiving Parade geht am Thanksgivingmorgen um 9 Uhr  von der 77th Street Ecke Central Park West los. Die Route findet ihr hier noch mal als Map.
Wer das Gedrängel nicht will kann am am Mittwoch Abend vorher von 15-21 Uhr das Aufblasen der Balloons anschauen. Dieses Event wird auch gegen Abend sehr voll. Mit kleinen Kindern und vor allem mit Kinderwagen sollte man vor 5pm gehen.
Und hier noch ein paar weitere Tipps für das Thanksgiving Wochenende:
Santaland im Macy's Herald Square
Nach der Thanksgiving Day Parade "fliegt" Santa im bekannten Department Store ein und dort wird ein komplettes Weihnachtsdorf eröffnet – mit Elfen, einem verzauberten Wald und einer Modelleisenbahn. Eintritt ist frei! (Hier findet ihr viele Tipps, die den Besuch mit Kids entspannter machen.)
Dyker Lights
Ab dem Thanksgiving Wochenende wird die berühmte Weihnachtsbeleuchtung das Viertel Dyker Heights in Brooklyn für die "Holiday Season" erleuchten.
Living History Weekend: American Revolution  (26. & 27.11.2016)
Bei diesem Event der New York Historical Society können Eltern und Kinder von zeitgemäß gekleideten Darstellern viel über das Leben während der Kolonialzeit lernen.
Außerdem:
Bereits am Samstag vor Thanksgiving (19. November) startet die diesjährige Holiday Train Show im New York Botanic Garden. Die Modelle der 150 Sehenswürdigkeiten, zwischen denen die Züge fahren, sind alle aus Naturmaterialien hergestellt!
UnMerken
Merken
Merken
Leave us a comment!