Follow our CityErleben blog to get periodic updates on the best activities with or without your kids like museums, playgrounds, festivals, free programs, day trips and weekend excursions. Get the best out of NYC tested by fellow CityKinder Moms & Dads and our contributors.
Macy's Thanksgiving Parade
November 1st 2014, 5pm
by Gabi
comments: 0
Vor einigen Wochen hat mein Sohn ein ganz besonderes Buch geschenkt bekommen: "Balloons over Broadway" von Melissa Sweet. Darin wird die Geschichte der Macy's Parade beschrieben. Heute haben wir es heraus gekramt und endlich mal gelesen und ich kann nur sagen, wie sehr ich mich auf dieses unglaubliche Spektakel freue.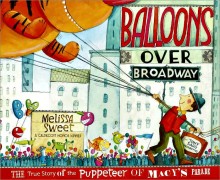 Die Macy's Thanksgiving Parade selber ist jedes Jahr am Thanksgiving Morgen von 9 Uhr – ca. 11 Uhr. Sie geht von der 77th Street die Central Park West runter bis  zum Columbus Circle, biegt dann in die Central Park South ein und  läuft die 6th Avenue weiter bis zur 34th Street (Herald Square) praktisch vor die Türe von Macy's. Da es an allen Abschnitten immer sehr voll ist, sollte man schon früh dort sein – auf einigen Websites wird so geraten, ab 6:30 eine Platz zu reservieren …..
Geheimtipp: Gerade mit kleinen Kindern ist es nahezu unmöglich 2,5 Stunden vor der Parade da zu sein, um einen guten Platz zu bekommen. Daher schwören einige New Yorker darauf, lieber das vorgelagerte Spektakel mit Kindern anzusehen: am Tag vor der Parade – also dieses Jahr  am 25.  November 2015 – kann man das Aufblasen der 25 Ballons ansehen. Um das American Museum for Natural History herum kann man von 15 uhr bis 21 Uhr zusehen, wie die Figuren langsam ihre volle Pracht entfalten. Allerdings scheint es auch dort inzwischen sehr voll zu sein – also bitte die Platzangst zu Hause lassen!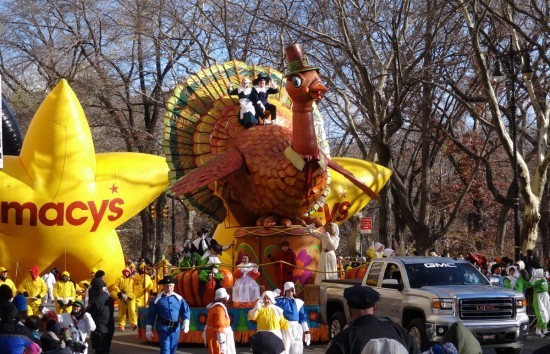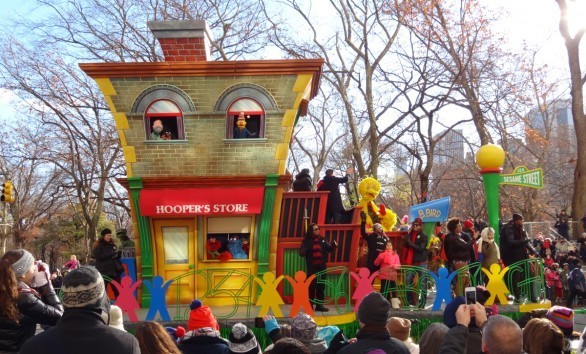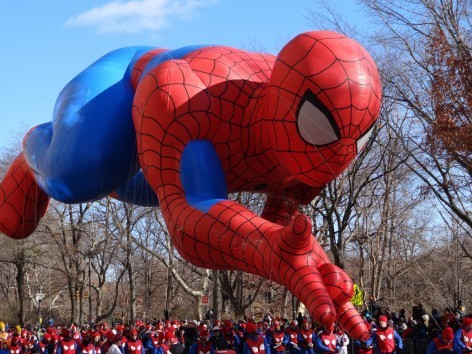 Und jetzt hier noch mal zum Mitschreiben:
Die Macy's Thanksgiving Parade geht am Thanksgivingmorgen um 9 Uhr  von der 77th Street Ecke Central Park West los. Die Route findet hier noch mal als Map.
Wer das Gedrängel nicht will kann am am Mittwoch Abend vorher von 15-21 Uhr das Aufblasen der Balloons anschauen. Dieses Event wird auch gegen Abend sehr voll. Mit kleinen Kindern und vor allem mit Kinderwagen sollte man vor 5pm gehen.
Leave us a comment!