Follow our CityErleben blog to get periodic updates on the best activities with or without your kids like museums, playgrounds, festivals, free programs, day trips and weekend excursions. Get the best out of NYC tested by fellow CityKinder Moms & Dads and our contributors.
Sparta Christmas Market
November 19th 2014, 12pm
comments: 0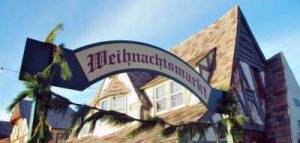 Weihnachtsmaerkte in den USA sind selten. Doch alle Bewohner der NY Tri-State Area, insbesondere die in New Jersey leben, haben Glueck. Denn jedes Jahr findet am 1. Dezemberwochenende in Sparta, NJ, ein zweitaegiger Weihnachtsmarkt statt.
Der Weihnachtsmarkt bietet eine Menge Verkaufsstaende – von typisch deutschen Leckereien ueber selbstgemachte Bastelkreationen bis hin zu original Gluehwein.
Die Kulisse ist einfach fantastisch – man schaut direkt auf den Lake Mohawk und  kann dabei einen leckeren Gluehwein oder eine German-Style Bratwurst geniessen. Wem es draussen auf dem Boardwalk  zu kalt ist, der besucht einfach die zahlreichen Verkaufsstaende, die sich drinnen im Lake Mohawk Country Club befinden.
Sparta's Version des deutschen Weihnachtsmarktes begann im Jahr 2001 – damals mit circa 20 Vendors. Im Laufe der Jahre ist die Zahl der Vekaufsstaene auf ueber 75 angestiegen. Der Markt wird immer beliebter, nicht nur bei der German-speaking Community. Ein Grossteil der Einnahmen geht an lokale Charity-Einrichtungen, wie dem German language department der Lenape Valley Regional High School.
Auch die German School of Morris County ist beim Weihnachtsmarkt vertreten. Jedes Jahr kommen die Schueler nach Sparta auf den Markt, um dort ein paar typische deutsche Weihnachtslieder vorzutragen. Es gibt eine Vielzahl weiterer Events an beiden Tagen – unter anderem kann man Bilder mit Santa Clause machen.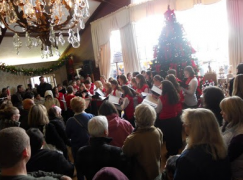 Alle Informationen wie Events, Oeffnungszeiten, Anfahrt, etc. sind auf der folgenden Website zu finden. 
Leave us a comment!