Curious who else is living in NYC? We are, too! We feature moms and dads from all walks of life with interesting stories, businesses, and family constellations. See who's in town, what they love about NYC, and why they stay.
Daniela Gottfried-Olotu | Servus Cookies
Man kann es nicht in einem Satz beschreiben was Daniela Gottfried-Olotu dazu bewogen hat in die grosse, weite Welt zu ziehen. Als eine Frau von grosser Statur, mit wallendem roten Haar und Herzohrringen sticht Daniela sofort aus der Menge heraus. "Ich werde manchmal für eine Russin gehalten," sagte sie lachend und erzählte dann von ihrer Erfahrung nach New York zu ziehen.
Daniela Olotu-Gottfried kam Ende Januar im Jahre 2002 in New York City an. Mit ihr kam ihr damals 4 jähriger Sohn Rafael. Sein Vater stammt ursprünglich aus Nigeria und hat mit den beiden zuvor in Österreich gelebt.
Daniela war schon seit der Kindheit an Grossstädten interssiert und hat sich bei einem Urlaub in Chicago in die Stadt verliebt. Besonders die Kunstszene hatte es ihr angetan. Noch dazu hatte sie das Gefühl schon einmal dort gewesen zu sein, da sie glaubte sogar manche Strassenecken wieder zu erkennen. Und so ist sie ihrer besten Freundin Miki Bourne, die sie als Schwester bezeichnet, gegen den Rat ihrer Freunde und Familie "ganz blauäugig und naiv" nach Amerika nachgezogen.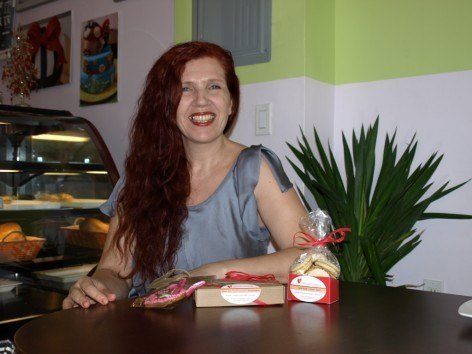 Daniela stammt aus der Grazer Umgebung im Bundesland Steiermark. Dort war sie erfolgreiche Managing Director beim Steirischen Herbst, einem der grössten Kulturevents Österreich. Doch so manche Fragen die ihr beim Spazieren gehen mit ihrem Sohn gestellt wurden, konnte sie nicht so einfach an sich abprallen lassen. "Warum ist dein Kind so braun?" Nachdem ihr Sohn eines Tages nach dem Kindergarten nach Hause kam und seine Mutter fragte, was denn ein 'Neger' sei, hat sich Daniela entschlossen eine nee Heimat für sie beide zu finden. Sie beschloss ihrer besten Freundin Miki, die vor 16 Jahren in die Staaten kam, nach New York nachzuziehen.
Ihre erste Station war East Harlem, an der 116. Strasse und 2. Avenue, welches  schon vor 10 Jahren  in Daniela's Augen enormen Charme hatte. Doch selbst mit einem Empfehlungsschreiben ihres Mentors vom Joanneum in Graz, der ihr zwar herrvoragende Jobinterviews beschaffte, konnte sie durch das Fehlen einer  Arbeitserlaubnis nicht angestellt werden. Noch dazu kam, dass die Sicherheitsvorkehrungen knapp vier Monate nach den Ereignissen vom 11. September, stark verschärft wurden. Angebote für ein Internship musste Daniela auch ablehnen, da sie sonst niemanden für die Versorgung ihres Sohnes gehabt hätte. Und so hat sich Daniela einige Zeit mit Babysitting durchgeschlagen.
Insgesamt hat Daniela seit ihrer Ankunft vor über zwölf Jahren in elf Nachbarschaften gewohnt. Sie hat es geschafft für 3 Monate ohne Wohnung auszukommen indem sie für eine Frau 'Housesitting' gemacht hat, welche ihr freundlicherweise auch erlaubt hat mit ihrem Sohn einzuziehen.
Mit der Geburt ihrer Tochter Alegra 2004 stand eine Veränderung an. Daniela erkannte, dass sie nicht auf andere Kinder aufpassen wollte, zudem ihr viele Kinder leid taten, die von einer Nanny zur nächsten geschleppt wurden. Da ihr nichts anderes übrig blieb fing sie an für andere Familien zu putzen und den Haushalt zu erledigen. Sie erkannte, wie viel Spass es ihr machte dadurch viele interessante Menschen kennen zu lernen. Ausserdem durfte sie dabei auch ihre Tochter mitnehmen und konnte so für sie sorgen. "Es war wie ein Schneeballsystem" , dass sich herumgesprochen hat und so kam Daniela zu immer mehr Klienten sowohl in Manhattan als auch in Brooklyn.
Eines Tages im Juni 2011 ging ein Gedanke durch Daniela's Kopf, der ihr im Gedächtnis blieb, "Was mag ich wirklich? Was habe ich als Kind schon immer gern gemacht?" erinnerte sich Daniela, mit einem leichten Überbleibsel an steirischem Akzent. Und die Antwort darauf war es Plätzchen zu backen. Sie entdeckte wieder ihre Liebe zum Selbstgemachten aus der Heimat. Und so fing sie an die Lehrer ihrer Kinder mit leckeren Vanillekipferl, Linzeraugen und Lebkuchen bei saisonalen Anlässen zu beglücken. Zur Weihnachtszeit 2011 backte sie, mit Blechen von Ikea bewaffnet, rund 3700 Kekse in ihrer Küche. Die Rückmeldungen waren nicht nur positiv sondern es zeigte sich ein Verlangen der Leute nach diesen Leckerein ab. So sehr, dass Daniela nach einiger Zeit das Angebot bekam bei Brooklyn ARTery, einer Kunstgemeinschaft in Ditmas Park, ihrer Kekse zu verkaufen. Zusätzlich verkauft sie ihre Backware nun auch bei Owl & Thistle in Brooklyn.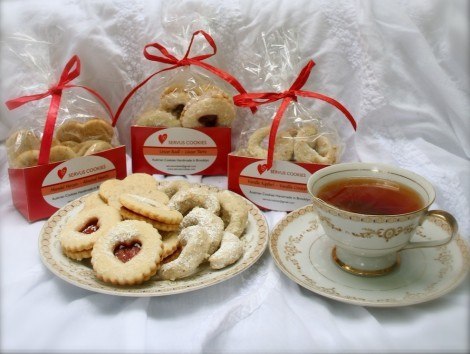 Beim Namen ihres Backbusinesses Servus Cookies war sich Daniela anfangs nicht sicher ob ein Name wie Guglhupf (die österreichische Version eines Marmorkuchens, auf english: Bundt cake) Wiedererkennungswert hätte. Während einer Telefonunterhaltung mit Daniela's "Schwester" Miki kam die Idee auf ihr Geschäft nach diesem gängigem Gruss zu benennen. "Wir sagen immer Servus zu einander. Zur Begrüssung, zum Abschied. Immer!" Die Geschenksboxen in der man die Kekse erstehen kann ist genauso österreichisch wie der Gruss, rot-weiss-rot.
Natürlich kam dabei die Frage auf warum Daniela den Bezug zu ihrer Heimat nicht verlieren wollte. "Ich habe Frieden gemacht, " sagte Daniela. Sie wolle nicht mehr "gegen Österreich kämpfen", was sie als Kind schon begonnen hatte. Sie beschrieb wie sie vor der Rückkehr nach Österreich nach Urlauben mit ihrer Familie als Kind schon nie zurück wollte. Sie konnte sich erinnern schrecklich geweint zu haben bei dem Gedanken "nach Hause" zurück zu gehen.
Es gibt auch Dinge die Daniela vermisst aus der alten Heimat, wie zum Beispiel die berühmte österreichische Gemütlichkeit. Aber selbst diese schafft sie sich selbst, genauso wie ihre geliebten Punschkrapfen, die sie einfach selbst backen wird.
Daniela schätzt die Freiheiten die sie in New York geniesst sehr, vor allem die Tatsache, dass sie sich mit ihren Kindern frei und unbefangen bewegen kann, ist ihr der hart erkämpfte Weg bis sie ihr Business anfing wert. Natürlich werden ihr immer noch Fragen gestellt, die so manch einem an den Kopf fassen liesse, aber solche Fragen haben in New York einen ganz anderen Hintergrund. Zum Beispiel wollte eine Mutter in der Schule von Daniela's Tochter wissen ob sie denn adoptiert sei. Der Grund war, dass auf diese Schule Kinder aus sehr vielen verschiedene. Arten von Familien hingingen und so Adoptionen fast schon zum Alltag gehörten.
Noch einen Grund warum Daniela es liebt in New York zu sein ist die Möglichkeit viele Menschen aus anderen Kulturen und Ländern kennen zu lernen. Manche dieser Leute haben ihr moralisch geholfen, andere gaben gute Ratschläge. Einer dieser Ratschläge war, dass sie sich eine Tax ID besorgen sollte um so den Weg in die Legalität ihres Keksuntermehmens zu ebnen.
"Ich bereue nichts!" sagte Daniela zum Abschluss mit Tränen in den Augen. "Ich habe so viel gelernt und verstanden über mich selbst," führte sie fort und stellte fest, dass sie die Begegnungen mit so vielen wunderbaren Menschen um nichts vermissen wollte.
Leave us a comment!