Curious who else is living in NYC? We are, too! We feature moms and dads from all walks of life with interesting stories, businesses, and family constellations. See who's in town, what they love about NYC, and why they stay.
Shabnam Rezaei | Entrepreneur – Oznoz.com
May 14th 2014, 2pm
by Gabi
comments: 0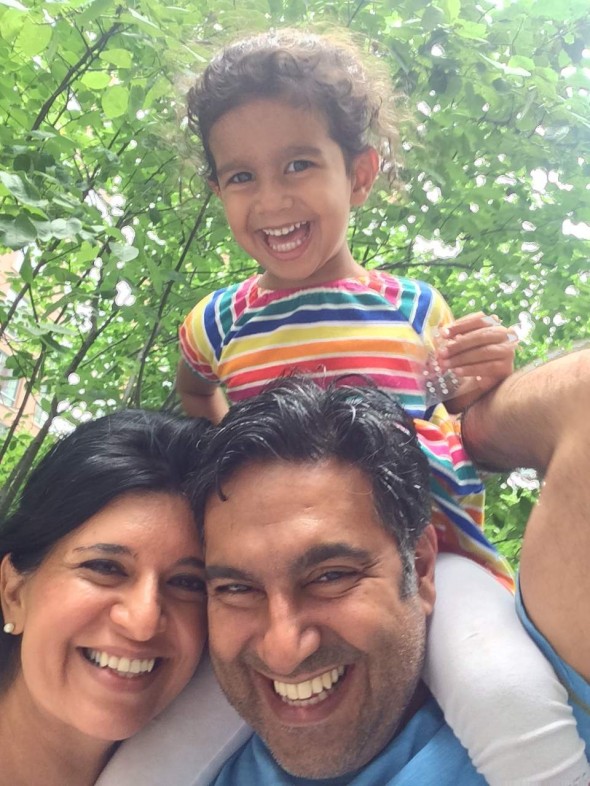 Name: Shabnam Rezaei
In New York seit:  Seit 1995, mit Unterbrechungen in London, Vancouver, Seattle und Los Angeles.
Anzahl der Kinder? Ein Mädchen, geboren 2011
Ich wohne in: Tribeca
Beruf(ung): Unternehmerin zusammen mit meinem Mann
Mein Business:
Wir produzieren Zeichentrickfilme für Kinder (Big Bad Boo Animation Studios) und unterhalten ein Videoportal ähnlich wie Hulu für zweisprachige Kinder (oznoz.com) Wir verfügen über Zeichentrickfilme auf Deutsch, Französisch, Englisch, Persisch, Spanisch und viele andere Sprachen für zwei – oder dreisprachige Kinder.
Website: www.oznoz.com und www.bigbadboo.ca
Was hat Dich nach New York gebracht?
Die Arbeit. Nach meinem Abschluss an der University of Pennsylvania ging ich nach New York und fing an, im Banken-Softwarebereich zu arbeiten.
Wenn es Dein Beruf war, übst Du ihn noch aus? Wenn nicht, was machst Du jetzt?
Nein, Gott sei Dank mache ich jetzt etwas anderes! 10 Jahre lang habe ich bei Exis, Misys sowie Deloitte & Touche gearbeitet und wollte immer mein eigenes Business aufbauen.Wir haben unser Unternehmen mit einem kleinem Zeichentrickfilm über "Norooz", das Persische Neujahr, begonnen. Mittlerweile haben wir  2 TV-Serien produziert: Mixed Nutz (PBS) und 1001 Nacht, die jetzt in mehr als 80 Ländern und mehr als 15 Sprachen laufen, unter anderem auf Disney, Teletoon, CBC, ORF, Global und viele andere. "1001 Nacht" gibt es jetzt auch in der englischen Fassung auf Oznoz und natürlich auf Deutsch.
Hast Du eine ausgewogene Work-Life Balance? Tipps für andere Eltern?
Ich liebe meine Arbeit und ich liebe meine Tochter Aliana. Wenn ich mit Aliana bin muss ich an meine Arbeit denken und wenn ich im Büro bin, denke ich natürlich an  Aliana. Ich habe versucht, mehr als 24 Stunden im Tag zu finden aber das hat nicht geklappt. Es gibt leider keine guten Tipps aber man kann es schaffen, solange man dabei glücklich ist und sein Bestes gibt.
Was liebst Du an New York besonders?
Bagels. Die vielen Spielplätze. Dass ich alles in einem Viertel finden kann. Dass ich kein Auto fahren muss (und deshalb fast niemals im Verkehr stecke). Dass meine Tochter die Gelegenheit hat, jeden Tag neue Freundschaften mit Kindern zu schließen, die persisch und deutsch sprechen.
Was magst Du nicht so gerne oder was nervt Dich an New York oder dem Lebensstil hier?
Der Lärm von Baustellen und Lastern.
Gibt es etwas das Du an Deiner Heimat vermisst?
Ich vermisse meine Eltern täglich, die im Teheran sind. Ich vermisse auch die Kaffeehäuser in Wien, wo ich aufgewachsen bin.
Wie viele Sprachen sprechen Deine Kinder?
Aliana ist momentan dreisprachig. Sie lernt auch ein bisschen Spanisch in der Schule und wir lesen manchmal auf Französisch, aber ich lege den größten Wert auf Persisch und Deutsch.
Ist es wichtig für Dich, dass sie Deine Sprache und Kultur kennen? Was tust Du für die Sprachentwicklung?
Es ist sehr wichtig für mich.  Alianas Vater kann nur English, deshalb geht sie in eine deutschsprachige Schule und zu Hause reden wir 70% Persisch, 30% Deutsch. Außerdem lesen wir viel in beiden Sprachen. Momentan schauen wir auch viel auf Oznoz, zum Beispiel Elm's World  auf Persisch und Rubberdubbers und Thomas & Friends auf Deutsch.
Was ist Deine liebste Beschäftigung in New York?
Mit Aliana zu spielen. Und dann schlafen zu gehen.
Hast Du einen Tipp für Neuankömmlinge?
New York hat so viel zu bieten und man muss einfach alles einmal erleben.
Leave us a comment!