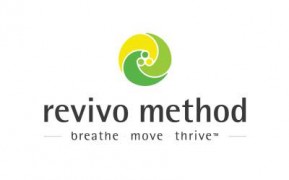 Had a baby in the past 12 months? Then this class is perfect for you!
This course will help you regenerate your body through our specific and targeted postnatal exercise program that rebuilds your muscles after pregnancy in a gentle yet effective way. Additionally, you'll learn simple movements to release tensions in your neck, shoulders and back.
You will also receive 4 short postnatal exercise videos, so you can practice at home.

Benefits:
restore pelvic floor and rectus abdominis
learn correct recruitment of transversus abdominis
prevent accidental leaks of urine
release back, neck, shoulder tension and pain
improve your wellbeing
get back in shape
In general this course is without babies. So, you'll have the chance to dedicate this one hour per week to yourself and your own well-being. However, should you be unable to find a babysitter for one of the classes of the course, you may bring your baby as an exception.
Read more about Revivo's Postnatal Program.
DATES AND TIMES: Thursdays, November 3, 10, 17, December 1 and 8. No class in the week of Thanksgiving (5 classes in total) from 8-9PM.
Missed classes are non-refundable.
WEAR: Comfortable clothes.
YOGA MATS: Will be provided by the studio.
ADDITIONAL INFORMATION:
Please make sure that your doctor has cleared you for this kind of workout.
Class is limited to 6 mothers, so Noemi can provide individual instructions as well.
PRICE: $125 for 5 sessions
EARLY BIRD DISCOUNT:
Sign in for our course before October 6th and get a 10
% Early Bird Discount. 
NOTE: Depending on enrollement, the course may be held in German or English (German only if all participants speak German). 
+++
BIO:
Noemi, who is half Swiss and half Italian, has been moving and working with her body all her life.
As a professional dancer, choreographer, and figure skater she developed a detailed, subtle way of working with her body. Her practice of Yoga, Feldenkrais, Franklin, Pilates and Reiki also facilitated the deep understanding of the body.
It is this passion for movement and the connection of the mind and body, which Noemi strives to pass on to her clients.
Noemi noticed that all of her friends and cousins in Switzerland were doing Rückbildungsgymnastik after pregnancy with great pleasure and success. So, it seemed natural for her that all women should have access to this gentle way of regenerating their bodies.
Noemi discovered that Rückbildungsgymnastik is not common practice in NYC yet and she is determined to bring it here. She enjoys sharing this type of exercise with women and witnessing their great results.
Testimonials
"This is a terrific course! Noemi is a wonderful instructor. kind, knowledgeable and fun. It is a gentle and effective way to get back to oneself post partum. I recommend this class without hesitation to anyone."Nina

Want to become
a testimonial?
You loved the event, service or product? Like to recommend it? Just send us your review.
Write review


Planning your
own event
If you have a great party or event idea for the CityKinder community, let us know!
Send us a mail