How it all happened and THANKS
CityKinder was founded by Gabi Hegan in October 2010 with the intention to give fellow German speaking parents a chance to meet and to help new arrivals get access to the community.
Over 2 years the project grew tremendously, however, the original website was not able to support all the new ideas we had, so we decided in spring 2013 that a new website is in order.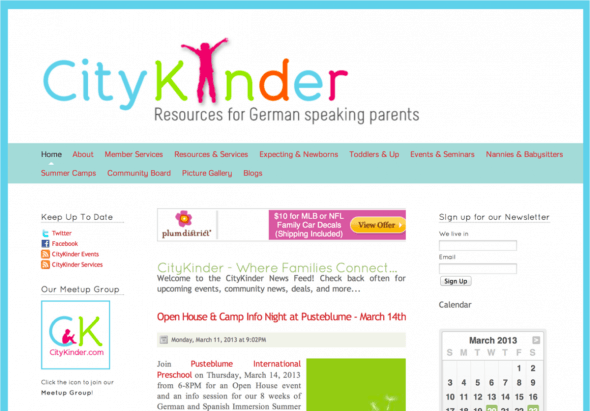 Screenshot Old Website
In January 2013 Gabi was invited to speak at a joint event for Expat Spouses organized by the German Consulate and the German American Chamber of Commerce. As fate wanted it, there were 2 young ladies in the audience who were inspired by the idea and were instrumental in getting CityKinder 2.0 off the ground. Thank you so much to Romy Schneider and Maj-Britt Jungjohann for your ideas, initiative and many, many hours spent on the project!
In May 2013 we asked YOU for your opinion and needs. Many families completed our survey and several Moms and Dads joined our 2 Focus Groups to give us feedback on our ideas and first designs mock-ups. Thank you for that!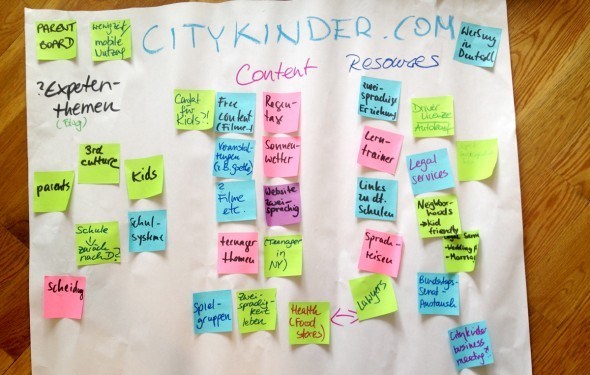 Sheet from the Focus Group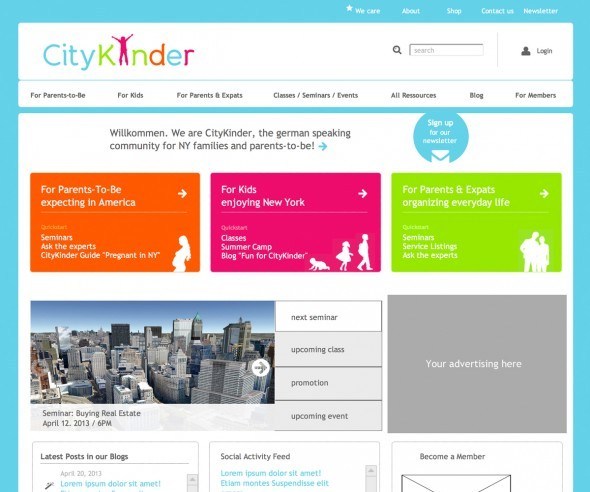 Mock-Up from an early stage to test the User Experience
From the start CityKinder would not have been possible without an "army" of volunteers and supporters who simply believed in the mission and the project. In addition to everyone who gave their time and ideas I also want to thank my friends and family who patiently listened to my CityKinder "obsession" for the past 3 years and watched our slow but steady progress.
It's hard to believe, but what you hopefully are going to explore took one year of hard work. After our crowd funding campaign last year to raise money for the developers and a rather premature launch party in September we intended the launch for October 2013. However, we had to make an unfortunate little detour as we first had selected a developer who did not work out for us. Bruised but not defeated we started from scratch in November with an amazing team based in Poland. If anyone is ever in need of a great web-developer give Chop Chop a try.
We also invested in an intensive SEO campaign (for laymen as I was until recently, that means Search Engine Optimization) which means that CityKinder will be found by Google and other search engines by anyone who is seeking our community, services, classes, advice or just wants an interesting read in our blogs. Gramercy Global Media, a German Online Marketing company based in NYC, Munich and Berlin was a great help to us. Thank you again!
CityKinder has been a true community project and labour of love until now. We hope, however, that we will be able to support our operations and planned future developments with our listing section, sponsors and carefully selected advertisers. If you know of any business or service you think should be represented on CityKinder.com, please let us know.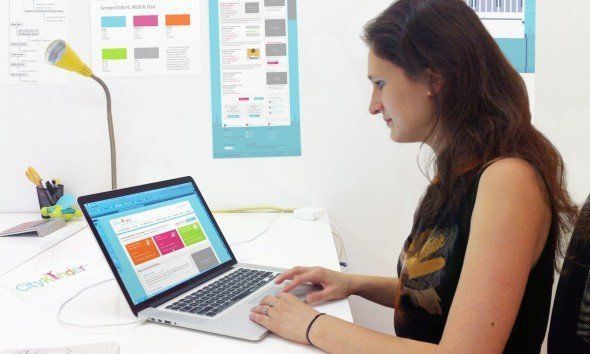 Our designer Romy working on the new website
Needless to say, we are very proud of our new site, but also know that there is always room for improvement. We value your feedback and comments – positive and constructive – to make sure this site is truly a resource for the community and a way to meet other families and make friends. Nothing makes us more happy than to hear that people met through a CityKinder Event, Class or Seminar.
And we are far from DONE yet. Stay tuned for our Membership area which we are planning to launch this summer!
Here is an attempt to list all volunteers and supporters (in no particular order or importance). Forgive me if it's not complete:
Volunteers:
Romy Schneider, Britta & Frank Nielsen, Lena & Dominik Grau, Maj-Britt Jungjohann, Kathrin Tartler, Barbara Rellstab, Julia John-Scheder, Julia Knobloch, Ann Lang, Gabi & Dietmar Geiselmann, Imke Reipen, Dagmar Heintze, Carola Grundmann, Jana Wiegmann, Jason Olim, Miriam Bandholz, Sandra Renz, Vanessa Semadeni, Nancy Petrovic, Flora and Nico Schreiber, Tricia Patrick, Simon Geronimo, Suzanne Davenport, Anahita Bahrami, Natascha Seume, Lisa Schemske, Anna Jordan, Steffi Dokman, Stephanie Heintzeler, Christa & Heinrich Almstaetter, Daniela Reinsch, Susann Kupfer
Thanks also to all our partners and supporters and sponsors who believed in our project and helped us through the financial "Engpaesse" to build the site.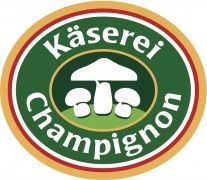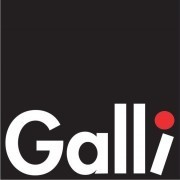 Special gratitude goes to Richard who built the first website on 2 weekends and finished with the sentence "And? Are you doing it now?" Further to my family and friends who are my sounding boards and inspiration and to my lovely daughter Lily who sat through many, many meetings and saw our apartment transformed into event headquarters.
Vielen Dank
Gabi