Lantern Walk in Prospect Park – Pictures & Donations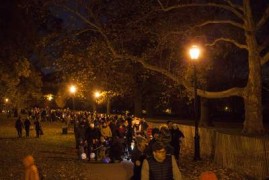 We had an overwhelming turn-out at our Lantern Walk in Prospect Park this year. Hard to tell exactly, but we are estimating somewhere between 400 and 500 people. The sea of lanterns was beautiful to watch. Thanks for coming out and supporting our event!

This year the community helped us fundraise for the newly opened German School Brooklyn. Thank to the generous sponsorship of Kinderhaus and Wortspiele 100% of your donations benefit the school. However, due to the amount of participants the school's parent representatives were not able to reach out to everyone – so if you did not have the chance to contribute your $10 suggested donation and would love to support the school you still have the chance to do so here:
Why are we asking for donations at our lantern walks? We figure St. Martin is about sharing and what better way to demonstrate this to our kids than coming together to share a little bit of our own to create something together. We are $300 short of our $1,000 fundraising goal for the event. Please help us to reach it.
Please visit our Picture Gallery for images of the event.