Masur Family Cuts the Ribbon on Masur Drive|June 6th Declared Masur Family Day
On Monday, June 6, 2016, Tomoko Masur, wife of the late Maestro Kurt Masur, and White Plains, New York Mayor Tom Roach cut the ribbon on Masur Drive on the campus of German International School New York. GISNY chose the name of the new street to honor the many contributions the entire Masur family has made to the school and to the greater Westchester County, NY community.
After the ribbon cutting, Mrs. Masur, accompanied by her son Ken-David Masur, a GISNY graduate, and daughter-in-law Melinda Lee Masur, joined the Administration, members of the Board of Trustees, and GISNY 7th through 11th graders at a ceremony that paid tribute to the Masur family. Mayor Roach officially proclaimed June 6th to be Masur Family Day in White Plains. At the ceremony, the school showed a video that it wrote and produced to commemorate the Masurs.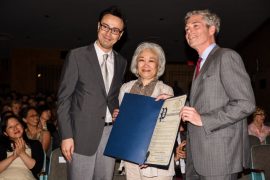 Maestro Kurt Masur, a resident of Harrison, NY until his death in December 2015, was one of the most highly regarded and influential conductors of his generation. He was music director of the NY Philharmonic from 1991-2002.  Maestro Masur was also a recognized humanitarian who was credited with preventing bloodshed during the fall of the Berlin Wall thanks to his influence with the East German government.  His son Ken-David graduated from GIS and is now an acclaimed conductor in his own right who founded and directs the Chelsea Music Festival in NYC along with his wife, Melinda Lee Masur.  Tomoko Masur, Maestro Kurt's wife, is an accomplished violinist and soprano and was a vibrant member of GISNY's school board when Ken-David attended the school. She was instrumental in raising $5.5M to build our state-of-the-art gym that our students enjoy today.
The event was covered by the German news media, including by German TV: