New Amsterdam School Open House (Waldorf School)
Experience the Wonder of New Amsterdam School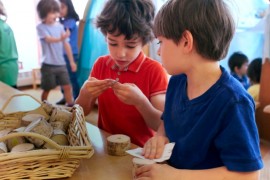 Join us for an evening of thoughtful and informative presentations by faculty, staff, and members of our parent community. Engage in a discussion about Waldorf curriculum, view a display of student work, and enjoy refreshments in the beautiful setting of New Amsterdam School.Held in a home-like, nurturing environment, New Amsterdam classes are informed by a strong daily and seasonal rhythm in harmony with the natural world. The children explore the outdoors everyday at our neighboring community garden.
New Amsterdam's curriculum weaves art, movement and music into daily life. We engage not only the intellect, but also the heart and hands. We cultivate reverence for the wonders of nature, gratitude and respect for others and the development of self-discipline. We inspire a life-long passion for learning.
In everything we do, the child's natural unfolding is our guide.
Please join us. We hope you will share this announcement with your circles. We look forward to seeing you there, and to introducing your friends and colleagues to the wonder of New Amsterdam School.
Thursday, November 12th, 6:30-8:30pm
62 Avenue B
(bt. 4th and 5th Streets)