WeWork 115 W 18th St
New York, NY 10011
Telephone: (609) 529 7841
Website: www.jacobiteacher.com
Email: info@jacobiteacher.com
Contact: Nico Jacobi
Languages: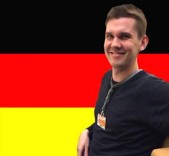 Nico Jacobi, 35, holds a Master's degree in teaching and education from the University of Cologne. He graduated in 2008 and taught German, Social Science, and Geography at German schools for the following seven years.
In June of 2015 he moved from Berlin to Manhattan and started offering private German tutoring services in the NYC area for all ages (kids 7 and up, teens, adults), levels and contexts: professional, personal, etc. He loves to teach and he is excited to help students reach their German language Goals!
Nico Jacobi uses his understanding of each student's method of learning to creatively cater to his or her individual needs. He studied under Professor Kersten Reich at University of Cologne, where he was influenced by the philosophies of John Dewey and constructivist teaching methods and he enjoys using a lot of these methods for his lessons.