15 Maiden Lane, Suite 1108
New York, NY 10038
Telephone: (212) 960-8980
Website: www.oznoz.com
Email: nina@oznoz.com
Contact: Nina Gabriadze
Languages: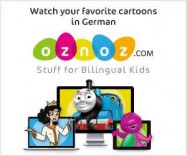 Oznoz.com features popular cartoons in German, French, Spanish, Persian and many other languages, available for streaming and downloading. Our library includes Sesame Street, Thomas and Friends, Musti, Super Why, 1001 Nights, Barney and Friends, Elmo's World and many more.
Oznoz Shop has a broad selection of books, DVDs and educational games in German.
All shows are available for you to download and own forever. Whether at home or on the go, Oznoz Video App for iOS and Android allows you to watch any show offline.
We feature quality shows, broadcast on channels like PBS, Nickelodeon, Cartoon Network, CBC, EBS Korea, NHK, CCTV, Al Jazeera Children's and more, including cultural documentaries like Children of China and the award-winning PBS show Mixed Nutz from Big Bad Boo Studios.
At Oznoz, we believe that every child can be a world citizen through learning about other cultures and learning new languages. Our mission is to provide parents with a safe space complete with all the tools they need to do this.
Stream with any browser or access on iPad, iPhone & Android, via the Oznoz Video App today. To learn more, watch this video.
Testimonials
No Reviews yet. Be the first one!

Want to become
a testimonial?
You loved the event, service or product? Like to recommend it? Just send us your review.
Write review


Service Listing
missing?
If you know a great service provider that is not listed yet, let us know!
Send us a mail