Print page

Oznoz.com | Stuff for Bilingual Kids
15 Maiden Lane, Suite 1108
New York, NY 10038
Telephone: (212) 960-8980
Website: www.oznoz.com
Email: nina@oznoz.com
Contact: Nina Gabriadze
Languages: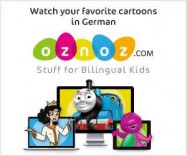 Oznoz.com features popular cartoons in German, French, Spanish, Persian and many other languages, available for streaming and downloading. Our library includes Sesame Street, Thomas and Friends, Musti, Super...
Learn more
Print page


Service Listing
missing?
If you know a great service provider that is not listed yet, let us know!
Send us a mail


You want to be
listed?
If your business offers services that match the CityKinder community, learn your options.
Learn more