Print page

German Consulate New York
871 United Nations Plaza
New York, 10017
Telephone: (212) 610-9700
Website: www.germany.info
Contact: Various Departments
Languages: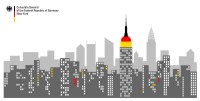 In addition to the German Embassy in Washington, DC, there are eight German Consulates General throughout the United States. Each Consulate covers a specific geographical area. The New York's Consulate General's area of...
Learn more
Consulate General of Switzerland in New York
633 Third Avenue, 30th floor
New York, NY 10017-6706
Telephone: (212) 599-5700
Website: www.eda.admin.ch/newyork
Print page


Service Listing
missing?
If you know a great service provider that is not listed yet, let us know!
Send us a mail


You want to be
listed?
If your business offers services that match the CityKinder community, learn your options.
Learn more