The New York International School | 20% CityKinder Discount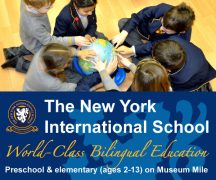 The New York International School, located at 4 East 90th Street, adjacent to Museum Mile and across from Central Park, is a Pre-N through Grade 8 (2-13) school that combines modern and innovative child-friendly pedagogy with traditional values. The school balances a nurturing environment that fosters understanding, critical thinking and enthusiasm with a stimulating curriculum. A major component of the curriculum is the Spanish and Mandarin dual language immersion program.  Students spend about 40% of their day learning either language through art, music, and direct language instruction.
NYIS faculty are highly qualified and have a genuine passion for their profession. Small class sizes (12 to 16 students) with both a head teacher and a teacher assistant help ensure our mission of providing individualized learning and student success.
Teaching and learning at our school is based on three fundamental principles:
·       Stimulating curiosity and nurturing an interest in learning
·       Thinking critically and taking a structured approach to understanding and solving problems
·       Having an open mind and respect for other people and new ideas
These principles are supported by lessons  delivered in an interactive and thought-provoking manner using a wide variety of teaching styles at every grade level. Lessons are planned to suit a range of abilities, allowing every student to benefit and improve upon their skills and knowledge.
Come and take a look at NYIS for yourself!  We have several open houses, information sessions, and family-friendly events coming up throughout the fall.  Please call admissions, 212-641-0920 to learn more, or RSVP for an event here!