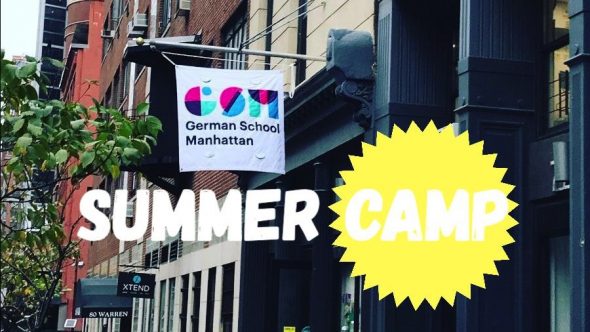 GSM Summer Camps are a great opportunity to spend the summer in a bilingual and inquiry based environment for children ages 4-12 with different levels of German and English language. Each week has a unique topic and we will go on a variety of adventures together in and around the school's neighborhood. Summer fun will be had at daily excursions to the Washington Market Park. Camps are a great opportunity to get to know the school and make new friendships. Lunches will not be provided. Camp hours are from 9AM-3PM.
$700/week for non-GSM Families,

 

$650/week for GSM Families
multiple week discount 10%, siblings discount 10%
Camp Program & Links
 

(descriptions below)

Week 1 July 5 – July 9 Ute & Julia: GROSSSTADT REPORTER

Week 2 July 12-16 Maresa & Sydney: Art – PRINT MAKING

Week 3 July 19-23  Maresa & Sydney: Art – SCULPTURE

Week 4 July 26-30 Science Camp with TBD

Week 5 Aug 2-6 Barbara: GALLI THEATER

Week 6 Aug 9-13 Barbara: GALLI THEATER

Week 7 Aug 16-20 Barbara: GALLI THEATER

Week 8 Aug 23-27 Barbara: GALLI THEATER

Week 9 Aug 30-Sept 3 Barbara :GALLI THEATER
---
Camp Descriptions
Week 1 Ute & Julia: GROSSSTADT REPORTER
Language: German & English
GSM will have its own TV station! The young reporters of WQGSM will be on site in Lower Manhattan to report on New York's history, past, present and future. In walkable distance to the school are: City Hall, the Statue of Liberty & Castle Clinton, One World Trade Center, Federal Hall, Charging Bull and the Fearless Girl. Kids will learn about their city in a playful way, both posing as reporters and interviewees and will produce small news stories that will be compiled into a newsreel by the end of the week.
Weeks 2 and 3 Maresa & Sydney: ART – PRINT MAKING/SCULPTURE
Language: German & English
Children will go on a journey full of discovery, exploration, and creativity. They will be inspired by the work of a famous artist and then create their own unique art projects centered on the artistic concepts and mediums. The goal of this program is to provide children with an opportunity to tap into their creativity and express themselves by experimenting with different mediums and techniques. By exploring the works and influences of diverse artists, children will also gain a culturally inclusive perspective on art and its history.
Print Week: This week we will focus on printmaking and including blueprints, etching, and fabric prints.
Sculpture Week:

 

This week we will focus on sculpture including clay, recycling, paper mache and Mobiles.
Week 4:  Science Camp with TBD
Language: German & English
Weeks 5-9 Galli Theater with Barbara
Language: German
Join us for a summer full of fairy tale fun in German! Have you ever wanted to play a prince, princess, king or queen? Do the singing seven dwarfs or magical fairies tickle your fancy? Our camp is just the right place to try out different roles from different fairy tales while learning a language.The camp sessions are between 2-5 days . We do warm up games, movement activities, theater games to prepare our little actors for the stage. We then choose a fairy tale that we will rehearse and act out as a group. Each child picks their own role and of course we have costumes to complete the transformation! On the last day at 2:30pm, there is a presentation for friends and family.
This camp is intended for children with a good knowledge of German. The class will be conducted entirely in German as will the final presentation.  
+++++
Find a list with all German Summer Camps in the NYC Area here. 
Testimonials
No Reviews yet. Be the first one!

Want to become
a testimonial?
You loved the event, service or product? Like to recommend it? Just send us your review.
Write review


Planning your
own event
If you have a great party or event idea for the CityKinder community, let us know!
Send us a mail