Follow our CityErleben blog to get periodic updates on the best activities with or without your kids like museums, playgrounds, festivals, free programs, day trips and weekend excursions. Get the best out of NYC tested by fellow CityKinder Moms & Dads and our contributors.
Astoria Park & Pool
Vielleicht habe ich als Kind zu viel von diesen alten Hollywoodschinken gesehen, denn jedesmal wenn wir im Astoria Park ankommen, werde ich ganz nostalgisch. Dieser Park liegt mir wirklich sehr am Herzen. Insbesondere das Freibad der " Astoria Pool". Ein schlichter Art Deco Bau mit leicht marodem Charme, dem man sich jedoch nicht so einfach entziehen kann. Spätestens am Ticketschalter hat man das Gefühl in einer anderen Zeit gelandet zu sein.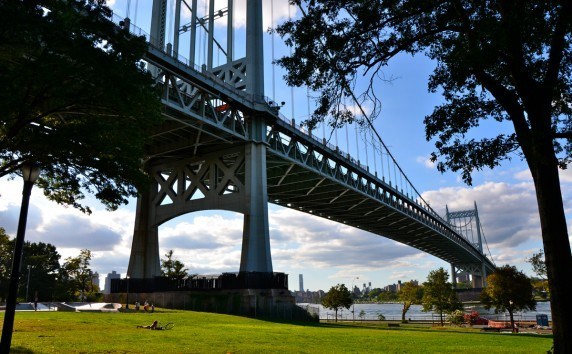 Er imponiert ausserdem durch Alter und Grösse. Hier wurden 1936, dem Jahr seiner Eröffnung, die Vorentscheidungen für die Olympischen Spiele in Berlin getroffen. (Und auch für die Olympiade 1964 )
Bei einer Länge von 100 m ( 330 feet ) und einer Breite von 50 m (165 feet ) kann man ruhig mal beeindruckt sein. Beim Schwimmen kann man dann auch kaum, die Augen von dem herrlichen Ausblick auf die Triborough Bridge (RFK-Bridge) und der Hells Gate Bridge wenden. Links vom Schwimmbecken gibt es ein Sprungturm Becken und zur Rechten ein Planschbecken mit "Berieselungsanlage". Erlaubt sind etwas mehr als 2000 Badende. Ich fand das ohne Kind nicht weiter schlimm. Jetzt als Mutter eines sehr aktiven Kindes würde ich empfehlen mindestens zu zweit hierher zu kommen. Man kann schnell die Übersicht verlieren. Das Sprungturm Becken ist gesperrt und verfällt zusehends. Die ganze Anlage steht glücklicherweise unter Denkmalschutz und hoffentlich kommt bald genug Geld zusammen um den Turm und das Becken zu retten.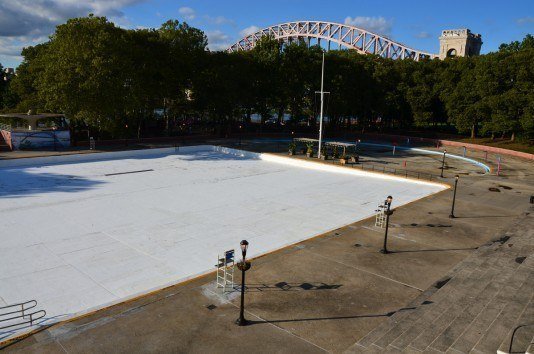 Der Eintritt ist frei. Deshalb sollte man auf jeden Fall mit einer Warteschlange rechnen. Wer aber das Vorhängeschloss vergessen hat, muss leider ein andermal wiederkommen. Die Umkleidehalle ist schrecklich und unangenehm. Die Regeln und der raue Umgangston der Angestellten sind gewöhnungsbedürftig, doch sollten auf keinen Fall von einem Besuch abschrecken. Wenn man einmal drinnen ist und bei dieser sumpfigen New Yorker Hitze durchs kühle Nass schwimmt, sind alle Sorgen vergessen. Ich habe hier Kinder jeden Alters gesehen und denke das auch die ganz Kleinen gut aufgehoben sind. Ich würde nur, wie schon gesagt, nicht unbedingt allein mit Baby hierher kommen.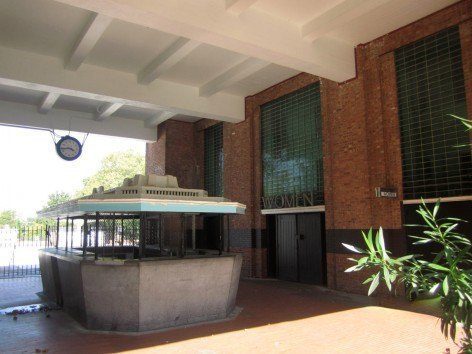 Wer keine Lust mehr auf badende Massen hat, findet gleich zwischen Pool und Hells Gate Bridge eine Riesen Liegewiese und den "Charybdis Playground". Der Spielplatz ist relativ gross und hat drei verschiedene Klettergerüste. Ausserdem Schaukeln für Babys und Toddler, mehrere Skulpturen auf den man sitzen, klettern und rutschen kann, eine Sprühanlage im Sommer und viele Bänke auf denen man den Ausblick auf den East River geniessen kann. Mein Sohn kreischt jedesmal vor Freude wenn wieder ein Schiff vorbei tuckert.
Auf dem Heimweg dürfen wir dann nur nicht vergessen beim Skate Park vorbeizuschauen. Am Fuss der Triborough Bridge, verschiedene Schwierigkeitslevel, sehr gepflegt und bei Jung und Alt beliebt. Vom "Hello Kitty" Scooter Girl bis zum alternden Skateborder rollt hier jeder in Gleichsinn einher.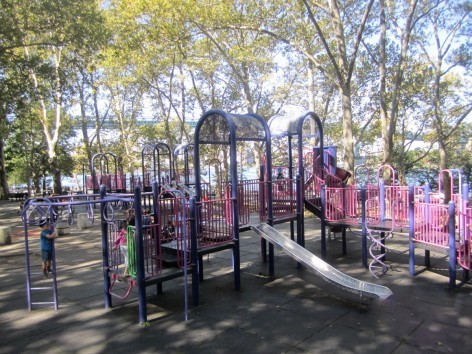 Nebenan erstreckt sich eine Viertelmeile lange Laufbahn und selbst ich, als absolute Langlauf-Niete bekomme Lust loszurennen. Auf der Wiese um die Laufbahn befindet sich ein Fitness Parcours mit vier Stationen für Klimmzüge,Sit-ups und Dehnungen – genau der richtige Ort für die frisch gebackene Mutter wieder in Form zu kommen. Wir haben auch eine Yoga Gruppe entdeckt, doch ich wollte nicht stören um nach einem Flyer zu fragen. Wem nach Tennis oder Basketball ist, dem sei auch hier geholfen. Es gibt hier 6 Tennisplätze und ich glaube ich habe mindestens drei Basketballplatze gesehen. Tennis ist dann auch fast das einzige was nicht kostenlos ist. Pro Saison ca. 200 Dollar.
Die Toiletten am Eingang, im Schwimmbad und auch auf dem Spielplatz sind einfach und sauber.
Wer also Lust auf Schwimmen wie Esther Williams,einen Spaziergang am East River oder einfach mal Lust auf einen neuen Park hat, ist hier, im Astoria Park sehr gut aufgehoben.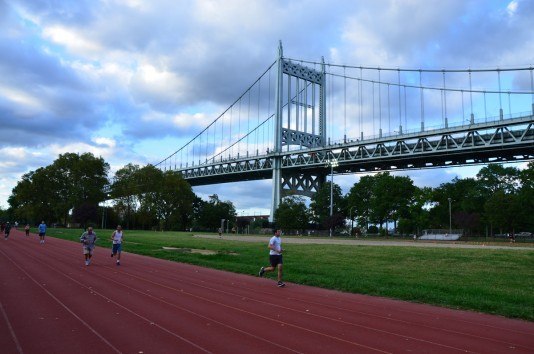 Adresse: 21 Hoyt Avenue North,Queens
Bei Anfahrt mit dem Auto in Queens die Ausfahrt 45 nehmen und in Richtung 31 Street fahren. Von Manhattan aus kommend ist, glaube ich, die Queensborough Bridge am einfachsten. Das Parken auf dem Parkplatz und in der Nachbarschaft ist kostenlos.
Subway: letzter Stop der N oder Q Linie: Astoria/ Ditmars Blvd. Und dann einfach Richtung Triborough Bridge laufen.Der Weg ist länger, ca. eine Meile.sollte man wissen wenn man mit Kindern ohne Kinderwagen unterwegs ist.Also auch an den Rückweg denken.: )
Öffnungszeiten: (Stand September 2012)
Die Badesaison beginnt am 28. Juni und endet am 3. September. Von 11 Uhr bis 19 Uhr mit einer Pause zum Saubermachen zwischen 15-16 Uhr.
In ihrem schönen Bericht über den Lasker Pool hat Anna ja schon ausführlich von den strengen Regeln berichtet. Ich denke diese gelten für alle NYC Pools. Hier nur noch mal der Link dazu.
Tip: am East River sitzen, Soft Eis vom "Mister Softie Truck" essen und dem Fluss beim Fliessen zusehen : )
Mandy Engelke ist Gast-Bloggerin beim CityErleben Blog und hat für uns ihre Erlebnisse im Astoria Park zusammengeschrieben.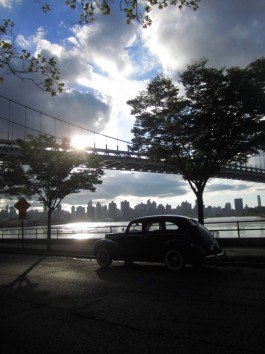 Leave us a comment!