Follow our CityErleben blog to get periodic updates on the best activities with or without your kids like museums, playgrounds, festivals, free programs, day trips and weekend excursions. Get the best out of NYC tested by fellow CityKinder Moms & Dads and our contributors.
CK Eats: Gottscheer Hall, Ridgewood Queens
March 22nd 2016, 11pm
comments: 0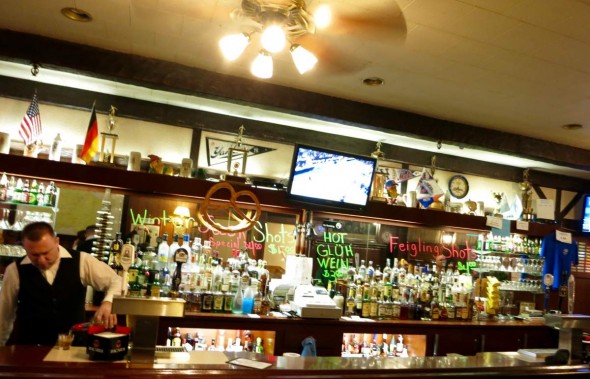 Eine Freundin von mir musste in Ridgewood, Queens etwas abholen und wir haben das zum Anlass genommen uns mal die Gottscheer Hall etwas genauer anzusehen.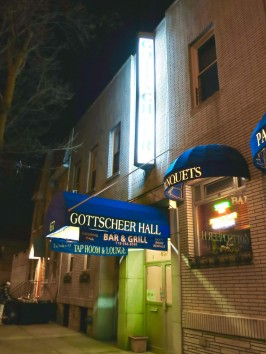 Fuer diejenige, die mit dem Wort Gottschee nichts anfangen koennen (konnte ich bis vor kurzem auch nicht) hier eine kleiner Ausflug in die Geschichte: Als Gottscheer wird die ehemalige deutschsprachige Bevölkerung des Gottscheer Landes im Herzogtum Krain (heute: Slowenien) bezeichnet, einer deutschen Sprachinsel, deren Zentrum die Stadt Gottschee liegt. 1941 wurden die Gottscheer unter den National Sozialisten umgesiedelt und viele haben ihren Weg nach New York gemacht.
Das Restaurant erinnert definitiv noch sehr an vergangene Jahrzehnte – zu unserer Überraschung sogar auch die Preise. Die Speisekarte ist fuer US Verhältnisse äußerst "übersichtlich" mit nur einer guten handvoll Gerichten. Die Riesenbreze war sehr gut und leider das Beste an unserem Abendessen. Ich war sehr gespannt auf das Gulasch mit Spätzle, war aber eher enttäuscht. Spatzle waren natürlich aus der Packung und dementsprechend waren auch die Kaesepaetzle, die eher "Mac & Cheese Spätzle" waren. Meine Freundin hatte Bratwurst mit einer sehr grossen Portion Kraut und Kartoffelsalat fuer Sage und Schreibe $6.50.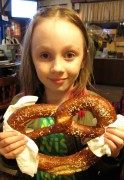 Service & Bierauswahl waren sehr gut. Es gibt eine kostenlose Juke Box, was den Kindern natuerlich sehr gefiel. Wenn man auf Bier, Brezen und Wurst Lust hat und mal eintauchen möchte in das wahre "Queens" weit weg von jeglichem Tourismus und noch nicht von Hipstern erobert, dann lohnt sich ein Besuch in der Gottscheer Hall auf jeden Fall.
Hier ist unsere (sehr subjektive) Bewertung:
Ambiente: sehr einfach, Bar Atmosphäre
Bier: gute Auswahl an Deutschen Bieren
Bratwurst: mittelgut, Kartoffelsalat war nicht frisch
Schnitzel: gibt es nicht
Preis/Leistung: super
Kinderfreundlich: auf jeden Fall
Es gibt im 1. Stock noch einen Veranstaltungsraum fuer bis zu 60 Leuten, falls man einen Raum zum feiern sucht.
Photo Credit: Lee Uehara
Leave us a comment!