Follow our CityErleben blog to get periodic updates on the best activities with or without your kids like museums, playgrounds, festivals, free programs, day trips and weekend excursions. Get the best out of NYC tested by fellow CityKinder Moms & Dads and our contributors.
Brooklyn Bridge Park | DUMBO
October 12th 2012, 7am
comments: 0
Für mich immer wieder eine Reise wert ist der Brooklyn Bridge Park. Wir fahren immer mit dem A oder C Train zur Station "High Street", von dort sind es dann ca. fünf Minuten zu Fuß. Ich liebe die Vielfältigkeit des Parks und die unglaublichen Ausblicke auf die Skyline von Manhattan, die Freiheitsstatue, Governors Island und im Hintergrund die Verrazzano Bridge. Der Park erstreckt sich sowohl südlich als auch nördlich der Brücke und wird ständig erweitert.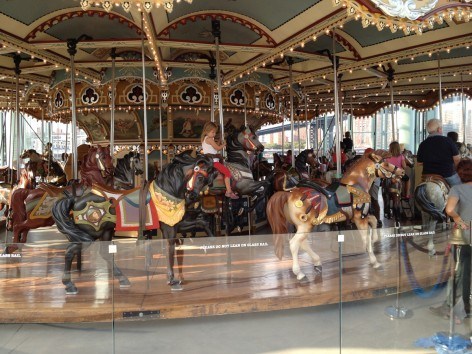 Die nördliche Seite verfügt über einen in Schiffsform angelegten Spielplatz mit unzähligen Klettermöglichkeiten für größere Kinder, einem wundervollen, altmodischen Karussell direkt am East River, einem großzügigen Picknickplatz, nett angelegten Wiesen und ein paar Steinstufen direkt am Wasser. Eine Fahrt mit dem Karussell gefällt nicht nur den Kindern, selbst der Opa meiner Kinder wollte sich so ein kleines Abenteuer nicht entgehen lassen und ganz oft stehen wir am East River und testen, wer von uns die Steine am weitesten ins Wasser werfen kann.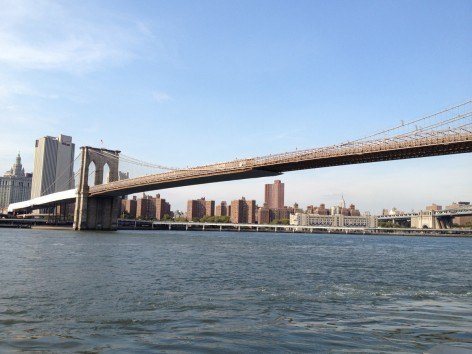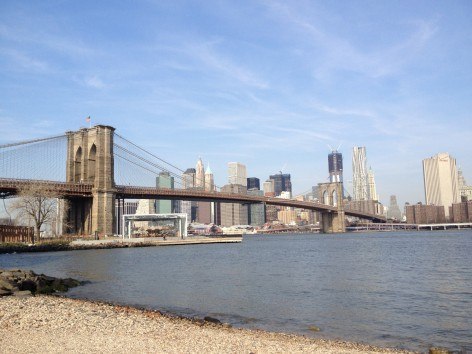 Die Südseite verfügt über einen sehr schönen, hügelig angelegten Park, einer Promenade mit atemberaubenden Blicken auf die Wolkenkratzer und einem Spielplatz für Kleinkinder und im Sommer gibt es auch einen öffentlichen Pool. Hier befindet sich auch eine Sation des Water Taxi, so dass man jederzeit auch auf dem Wasserwege einen Abstecher von Manhattan aus antreten kann.
Natürlich kommt das leibliche Wohl auch nicht zu kurz, es gibt ein kleines Bistro, die Brooklyn Ice Cream Factory, Hotdog-Stände und vieles mehr und nur einen Steinwurf entfernt gibt es die legendäre Pizza bei Grimaldis oder gleich am Fluss das berühmte River Cafe.
Bei jedem Besuch verliebe ich mich aufs Neue in diesen Park und entdecke die unterschiedlichen Möglichkeiten diesen Park zu "erleben". Und manchmal sitze ich einfach nur da und genieße die Aussicht und sehe meinen beiden Mädels beim Kleeblättersammeln zu.
Schön sind auch kleine Erkundungstouren in der Nähe des Parks wie z.B. ein Spaziergang auf der Esplanade in Brooklyn Heights oder ein Abstecher zu unserem geliebten Candyshop in DUMBO.
Viel Spass beim Erkunden!
Offizielle Website: www.brooklynbridgepark.org
Pizza:  www.grimaldispizzeria.com
Candy: www.deweyscandy.com
Autor: Beatrice Gross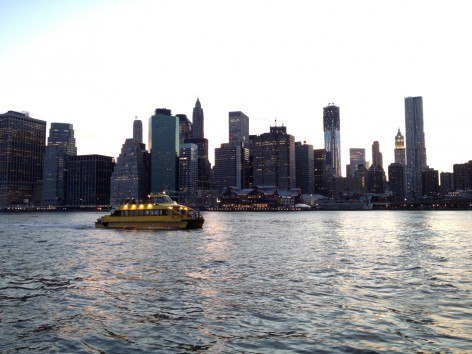 Leave us a comment!