Follow our CityErleben blog to get periodic updates on the best activities with or without your kids like museums, playgrounds, festivals, free programs, day trips and weekend excursions. Get the best out of NYC tested by fellow CityKinder Moms & Dads and our contributors.
Cape Cod
September 19th 2012, 11am
comments: 0
Ich möchte Euch gerne von unseren Erlebnissen auf Cape Cod berichten und Euch dieses Stückchen Erde ganz besonders ans Herz legen. Zu meiner Familie gehören neben meinem Mann auch zwei Töchter im Alter von 4 und 5 Jahren.
Die Halbinsel liegt ca. 4 Autostunden nordöstlich von New York und bietet eine abwechslungsreiche Fahrt durch die Bundesstaaten New York, Connecticut, Rhode Island und Massachusetts.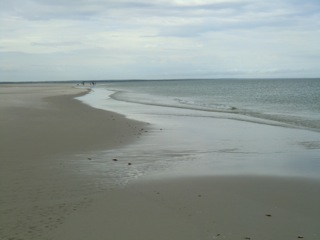 Unser Reiseziel war das großzügig angelegte Motel "Sesuit Harbor House" in East Dennis und schon gleich beim Empfang wussten wir, dass wir die richtige Wahl für ein paar erholsame Tage, weit ab von der Großstadt, getroffen hatten. Das Motel verfügt über einen sehr gepflegten Outdoor-Swimmingpool mit Liegen, frischen Handtüchern, Schwimmatten, Schwimm"nudeln" und Taucherbrillen. Der Pool liegt wunderschön in einem parkähnlichen Garten mit blühenden Sträuchern und vielen, alten Bäumen, die auch im Hochsommer ausreichend Schatten spenden. Überall im Garten verteilt gibt es nette Sitzgelegenheiten und auch einen Grill, den die Gäste nutzen dürfen. Das Motel wird von den Eigentümern mit viel Liebe zum Detail geführt und jeder Gast wird persönlich mit Informationen und kleinen Geschichten versorgt. Wir haben uns unheimlich wohl gefühlt, die Stimmung dort hatte etwas familiäres, herzliches und die Tipps der Inhaber waren für uns immer eine Bereicherung. Wir persönlich fanden es auch sehr von Vorteil, dass im Zimmerpeis ein Frühstück enthalten war, zumal es mit kleinen Kindern wirklich keinen Spaß macht, wenn  man sich schon das Frühstück "zusammensuchen" muss.
Von unserem Domizil aus haben wir auch ein paar Ausflüge unternommen, u.a. an den "Mayflower Beach". An diesem Strandabschnitt waren die Gezeiten sehr stark ausgeprägt, so dass bei Ebbe eine wundervolle Landschaft mitten im Meer enstanden ist, die uns zum Entdecken eingeladen hat. Mit Schäufelchen und Eimer bepackt entdeckten wir Meeresschnecken und kleine Minikrebse, tote Fische, Quallen, Muscheln und sahen wie kleine Fische um unsere Zehen flitzten. Unsere beiden Mädels waren so begeistert, dass wir oft stundenlang spazieren gingen oder die tollen Farben am Himmel und im Meer bewunderten. Und endlich konnten wir wieder einmal ungestört die Natur genießen und Ruhe finden, nach all den Erkundungen und Eindrücken in New York.
Auch die kulinarischen Genüsse kamen nicht zu kurz, so gab es ausgezeichnete Lobster Roll im Sesuit Harbor Cafe in East Dennis mit Blick auf den Strand und den Sonnenuntergang oder französische Leckereien in der Boulangerie in Wellfleet oder wiederum leckere Fischgerichte im Scargo Cafe in East Dennis. Damit wir auch noch einen kleinen Überblick über die Insel erhielten, fuhren wir einen Tag nach Provincetown und machten dort eine beeindruckende Walbeobachtungstour. Allerdings würde ich darauf achten, dass der Seegang nicht zu stark ist, denn die Schiffe fahren doch recht weit auf die offene See hinaus, und ich hätte Bedenken, ob das Kinder so ohne weiteres verkraften würden. Ein weiterer Ausflug führte uns nach Chatham, vom Strand aus sahen wir unzählige Seehunde und auch der nette Ortskern lud zum Bummeln ein. Scheinbar soll es in der Nähe auch Haie geben, die wohl ganz verrückt nach Seehunden sind!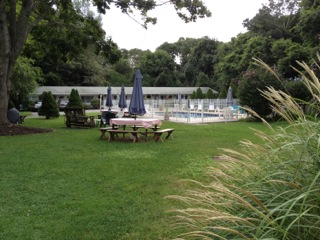 Leider mussten wir uns nach einer Woche schon wieder verabschieden und wir alle Vier waren uns einig, dass wir gerne noch geblieben wären!
Wir können East Dennis wärmstens empfehlen, zumal dieser Ort an der wettergeschützten Cape Cod Bay liegt und es somit auch für kleine Kinder kein Problem ist im Wasser zu spielen oder zu schwimmen. Auch empfanden wir unsere Reisezeit Anfang September als sehr angenehm, es war alles schon ein bisschen ruhiger, am Strand mussten wir keine Parkgebühren mehr bezahlen und das Wetter war immer noch warm genug um zu baden.
Wegbeschreibung:
I-95 North, Wechsel zur I-195 East, von dort bis Exit 22A und danach weiter über die Rt. 25 und die US 6 nach Cape Cod
Fahrzeit: ca. 4 Stunden
Interessante Internetseiten:
www.sesuitharborhouse.com
www.whalewatch.com
www.scargocafe.com
www.dennischamber.com
www.sesuitharbor-cafe.com
(Zimmerpreise im Sesuit Harbor House: 2 Queen Beds $ 160 – $ 260)
Beatrice Groß ist Gast-Bloggerin beim CityErleben Blog, die uns über ihre tolle Zeit im Sommer 2012 in Cape Cod berichtet hat. Vielen Dank für diesen tollen Beitrag!
Leave us a comment!