Follow our CityErleben blog to get periodic updates on the best activities with or without your kids like museums, playgrounds, festivals, free programs, day trips and weekend excursions. Get the best out of NYC tested by fellow CityKinder Moms & Dads and our contributors.
Die besten "Holiday Tree Lighting" Events in NYC
November 26th 2018, 6pm
comments: 0
Tree Lighting Ceremony – Der Start der Vorweihnachtszeit!
Die Tage sind kürzer. Es wird kälter draußen. Alle sind noch satt gegessen vom Thanksgiving Mahl und da geht es schon weiter – Weihnachten steht an und die ersten Christbäume und Dekorationen werden in NYC feierlich eingeweiht.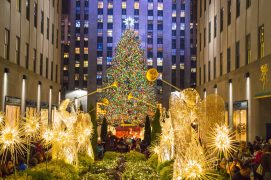 Mittwoch 28. November 19Uhr "Rockefeller Center Christmas Tree Lighting", Manhattan
Der berühmte New Yorker Weihnachtsbaum wird mit einer großen Show und vielen Vorführungen erleuchtet
Die Zeremonie wird live im TV übertragen
Seid frühzeitig da (nicht später als 16Uhr) wenn ihr etwas sehen möchtet
Bester Platz um eine gute Sicht zu haben ist entweder in den Channel Gardens (zwischen West 49th und 50th, 5th Ave) oder vom Rockefeller Plaza (zwischen 48th und 51th; 5th und 6th Ave)
Weniger kinderfreundlich
Kostenlos
Donnerstag 29. November 17:30-18:30 "Central Park Conservancy 21st Annual Holiday Lighting", Manhattan 
Feiere den Beginn der Weihnachtszeit mit der gesamten Familie!
Besuch von Santa und seinen Freunden
Kommt in Weihnachtsstimmung wenn ihr mit ganz New York Weihnachtslieder singt
Wärmt euch bei heißer Schokolade und Keksen auf
Findet im Charles A. Dana Discovery Center im Central Park statt (110th Straße zwischen Lenox Ave und 5th Avenue)
Kinderfreundlich
Kostenlos
Freitag 30. November 19:00-20:00 "Grand Illumination", Staten Island 
Mache einen Ausflug nach Staten Island und heiße Weihnachten Willkommen
Singt Weihnachtslieder und genießt kostenlosen heißen Cider und Plätzchen
Bestaunt die Erleuchtung des historischen Gebäudes
Die Festlichkeiten finden draußen statt – zieht euch bitte warm an!
Findet im Conference House Museum, 298 Satterlee Street, Staten Island statt
Kinderfreundlich
Kostenlos
Samstag 1. Dezember, 14:00-17:00 "6th Annual Holiday Festival & Tree Lighting Celebration", Queens
Ein "Must See" Event nicht nur für Familien aus Queens
Viele Angebote, von Musik über Fahrgeschäfte, Getränke und Speisen bis hin zu der feierlichen Christbaum Zeremonie
Im Astoria Park (Astoria Park Lawn), Shore Boulevard zwischen Hell Gate Brücke und dem Pool, Queens
Kinderfreundlich
Kostenlos
Sonntag 2. Dezember, 12:00-17:30 "Christmas in the Garden", Queens
Genießt den Botanical Garden von NYC in Weihnachtsstimmung!
Live Musik, Bastelangebot, Speisen und Getränke, ein Besuch von Santa und noch vieles mehr
>Bitte guckt auf deren Website nach dem genauen Tagesablauf und welche Aktivitäten eine extra Gebühr verlangen
Im Queens Botanical Garden, 43-50 Main Street, Queens
Kinderfreundlich
10$ Parkgebühr
Sonntag 2. Dezember, 16:00-17:00 " Celebrate Chanukah at the Park with Chabad House Bowery" , Manhattan
Der erste Tag von Chanukah beginnt!
Jeden Abend wird eine Kerze angezündet zur Feier von Chanukah
Chabad House wird die Zeremonie begleiten
Garibaldi Plaza im Washington Square Park
Keine extra Aktivitäten für Kinder, aber eine spannende kulturelle Erfahrung
Kostenlos
Mittwoch 5. Dezember, 18:00-19:00 "Christmas Tree Lighting at Washington Square Park", Manhattan
Ein voller Abend mit Gesang, Süßigkeiten und dem Besuch von Santa
Das Rob Susman Brass Quartett begleitet die Familien beim Singen von Weihnachtslidern
Besuch vom Weihnachtsmann und die Erleuchtung des Weihnachtsbaumes
Beim Washington Square Arch im Washington Square Park, Manhattan
Kinderfreundlich
Kostenlos
Donnerstag 6. Dezember 17:30-21:00 "Film Screening of Elf & Tree Lighting", Manhattan
Guckt euch gemeinsam den berühmten Weihnachtsfilm "The Elf" an und genießt eine Weihnachtszeremonie zur Baumerleuchtung
Nehmt eine Decke mit und genießt den Film sowie Spiele und Getränke&Speisen
Filmvorführung fängt um 18Uhr an
Im Morningside Park 113th und Manhattan Avenue
Kinderfreundlich
Kostenlos
Leave us a comment!