Follow our CityErleben blog to get periodic updates on the best activities with or without your kids like museums, playgrounds, festivals, free programs, day trips and weekend excursions. Get the best out of NYC tested by fellow CityKinder Moms & Dads and our contributors.
Fleet Week & Memorial Day 2019
May 20th 2019, 10am
comments: 0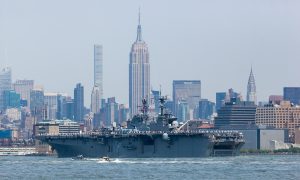 Auch wenn es für uns Deutsche & Europäer zum Teil nicht so ganz nachvollziehbar ist, welches "Gewese" hier in den USA um das Militär gemacht wird, sind all die Paraden und ähnliches, hin und wieder trotzdem interessant anzuschauen. Während der jährlich stattfindenden New Yorker Fleet Week und am Memorial Day ist davon reichlich geboten:
FLEET WEEK
Mittwoch, 22. Mai (8-12Uhr)
Zum Auftakt wird es auf dem Hudson eine Parade aller zur Fleet Week hier stationierten Schiffe geben, wenn diese in New York einlaufen. Auf den Schiffen, die bis etwas südlich der George Washington Bridge zu sehen sein werden, fahren etwa 4.500 Seeleute der Navy und der Küstenwache mit!
23.-27. Mai
Teilnehmende Schiffe können kostenlos besichtigt werden. Sie liegen an folgenden Piers:
Manhattan: Piers 86 (Intrepid Pier) und 90
Brooklyn: Cruise Terminal Brooklyn
Staten Island: Homeport Pier
Die genauen Besichtigungszeiten und Details zu vielen weiteren Events erfahrt ihr hier.  Einige wichtige Hinweise, die ihr beachten solltet, wenn ihr eine Tour mitmachen wollt, findet ihr auf der Seite der New York Fleet Week – beispielsweise können keine Kinderwägen mit an Bord genommen werden.
Dienstag, 28. Mai
Die an der Fleet Week beteiligten Schiffe laufen wieder in Richtung ihrer Heimathäfen aus.
Weitere Fleet Week Veranstaltungen
Das Intrepid Museum bietet die ganze Fleet Week lang ein spezielles Programm. Einer der Höhepunkte ist sicherlich die kostenlose Open Air Filmvorführung an Bord der Intrepid am Freitag Abend.
Im Jones Beach State Park in Wantagh, Long Island gibt es am Wochende 25. & 26. Mai jeweils zwischen 10 und 15 Uhr die Bethpage Air Show zu beobachten
Zusätzlich finden zahlreiche kleinere und größere Events in Verbindung mit der Fleet Week statt  – eine Übersicht findet ihr auf der Homepage der New York Fleet Week.
MEMORIAL DAY
Paraden
Die Little Neck-Douglaston Memorial Day Parade in Queens ist nicht nur die größte in New York sondern auch in den gesamten USA! Sie beginnt am 27. Mai um 14 Uhr. Clickt hier für mehr Info.
In Brooklyn gibt es mit der King's County Memorial Day Parade (27. Mai, 11 Uhr) sogar noch eine zweit Parade.
Außerdem finden natürlich auch in der Umgebung von NYC einige Paraden statt, beispielsweise die City of White Plains Memorial Day Parade und diverse Paraden in New Jersey sowie auf Long Island.
Start der Sommersaison
Abgesehen von all den patriotischen Veranstaltungen fängt am Memorial Day Wochenende natürlich traditionellerweise auch die Sommersaison an, sprich, die Strände in und um New York öffnen und die Saison in den Hamptons und auf Governors Island beginnt!
Das lange Memorial Day Weekend bietet natürlich auch die Möglichkeit für weitere schöne Tages- oder Wochenendausflüge, wie zum Beispiel nach Philadelphia, ins Hudson Valley, zu den Amish nach Lancaster County, PA, nach Cape Cod oder Washington D.C.,
Merken
Leave us a comment!