Follow our CityErleben blog to get periodic updates on the best activities with or without your kids like museums, playgrounds, festivals, free programs, day trips and weekend excursions. Get the best out of NYC tested by fellow CityKinder Moms & Dads and our contributors.
Great Christmas Gifts for the Whole Family
December 7th 2017, 5am
comments: 0
For Kids

KinderBooks is an online rental for children's books in German.
Did you know that reading daily for just 10 minutes in German to your child can have a huge impact on his/her German? But finding the right books in German can be hard and costly. KinderBooks offers a curated selection of classics and new releases in German for children 0-10 years. And deliver them to your door. So you and your child can have fun reading.
KinderBooks-Founder, Beatrice Beckmann, grew up in a house with ten meters of floor-to-ceiling shelves packed with books (de-cluttering was not a thing yet). No wonder she developed a passion for books as soon as she could read and wanted to be a writer. She has worked in publishing all her professional life and speaks four languages. Today she lives in New York and is the mother of two children. Frustrated with the choices for children's books in German she found in New York, she founded KinderBooks, to share her passion for books and language and help other parents on the sometimes difficult quest of raising a bilingual child.
Handmade in Manhattan
Glückskind is a German word, meaning "darling of fortune", a child that is followed and surrounded by luck and happiness. Glückskind's main goal is to offer practical, cute, and comfortable clothes for babies and toddlers, that can be worn and loved for a long time.
They chose a distinct selection of fabrics from American, Canadian, and German manufacturers, that are in many cases certified organic, and follow the Childrens Product Compliance guidelines. All clothes are handmade right here in Greenwich Village in Manhattan.
Glückskind was founded by Juliane and Sara, two German moms from Berlin who met on the playgrounds of Greenwich Village in Manhattan. While their children started to play together, the moms discovered their similarities in their love for individual, local, and handmade products, as well as their sewing passion. Out of many playground chats and play dates grew a friendship, and the idea to bring a bit of their Berlin hometown style and flair to Manhattan.

MINIMAINS only uses highest quality materials for their products that comply with U.S. and the much stricter German standards and federal regulations for eco-friendly products.
Their affiliated manufactory in Nepal works with the highest ethically standards and guidelines and gives local women the chance to get back into the workforce and support their families by following all rules for environmentally friendly manufacturing. All of MINIMAINS products are handmade with love. Their cotton designs are all designed and handmade in NYC. Every piece is expertly handcrafted by cashmere specialists with extensive experience with this delicate fiber.
Founder & President Nataly Rothschild was born and raised in Hamburg, Germany, and after moving to New York in 2010 now lives on the Upper East Side with her husband and twin daughters. Her love for all things cashmere lead her to design MINIMAINS 100% eco-friendly and ethically made cashmere collection, when she couldn't find high quality, beautiful clothing at reasonable prices. After all they wear it just for a short time.
For the Parents & the Whole Family

  Porcelain Jewellery & Tableware
Stephanie Dubsky has been designing porcelain jewelry and ceramic tableware since 2005. Every piece is one of a kind and made by hand.
Growing up in Vienna, a city with an extraordinary history in art and design, had a great impact on her very early on. Art, architecture and design have been very important to her all her life. In 1999 she came to New York to work in the curatorial department of the Guggenheim Museum. Since 2005 she has been working independently in her own studio, where she has been enjoying working on commissions for custom-made pieces, including bathroom murals, personalized tableware, and most recently jewelry such as rings, necklaces, and earrings.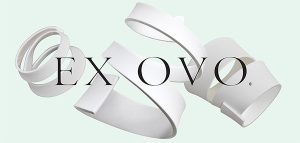 Ex Ovo is a line of progressive sterling silver and acrylic art jewelry that is architectural, minimalist and modern. Katrin Zimmermann is a member of the Council of Fashion Designers of America (CFDA).
She is also a Professor at New York's Pratt Institute. Katrin's constant search for technical and design innovation allow her to bridge the divide between manus and machina, making each crafted piece unique in approach and execution.
A native of Germany, Katrin Zimmermann studied and traveled extensively throughout Europe and Asia before setting up her studio in Harlem. Educated in Switzerland, England, China and the United States, she holds a degree in Chinese and Art History as well as one in Jewelry Design. Katrin founded Ex Ovo in 1992. She is a member of the Council of Fashion Designers of America (CFDA). She is also a Professor at New York's Pratt Institute. She has exhibited her jewelry at the Museum of Art and Design in New York, the Smithsonian Institute of Washington DC, and at Mercedes Benz Fashion Week in New York. Her jewelry is sold at many modern art and design museums in the US and Europe.

Servus Cookies is a home-based family business located in Brooklyn, New York. They bake the most delicious all natural butter cookies and cakes in the Austrian pastry tradtion.
All their baked goods are handmade in small batches thus ensuring the perfect consistency and flavor you would expect from your favorite pastry. Try their fabulous cookies and cakes and judge for yourself! We are convinced you will come back for more and more and more …
Founder Daniela grew up in Austria, doing all the baking for Christmas and family birthdays from the early age of 9. After having lived in New York for some time she wanted to try out whether the New Yorkers would also fall for her Austrian butter cookies and started baking in May 2011 with her tiny home stove and sold at first only at private events and small local craft fairs. The cookie business really took off around Christmas time this year.
Leave us a comment!