Follow our CityErleben blog to get periodic updates on the best activities with or without your kids like museums, playgrounds, festivals, free programs, day trips and weekend excursions. Get the best out of NYC tested by fellow CityKinder Moms & Dads and our contributors.
New York Kulturevents & Paraden 2019
January 22nd 2019, 9pm
comments: 0
New York wird nicht ohne Grund als "melting pot" bezeichnet. Wir deutschsprachigen Einwohner gehören zu den etwa 45% der Haushalte in NY, die zu Hause nicht nur Englisch sprechen, sondern auch noch eine zweite Sprache.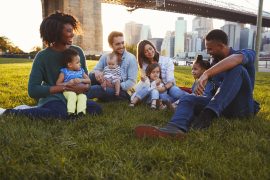 Mit 170 verschiedenen Sprachen ist New York die Stadt mit den meisten Sprachen auf der Welt und diese Vielfalt feiern wir auch! Das ganze Jahr über finden Paraden und Feierlichkeiten statt, um die diversen Kulturen zu würdigen und besser kennen zu lernen. Im Kindesalter werden die Grundsteine für respektvollen Umgang miteinander gelegt.
Lasst uns Mauern einreißen und uns gegenseitig feiern!
17. Februar: Chinesische Neujahrsparade
Eine Parade voller farbenfroher Kostüme, Drachentänze, Martial Arts Performances und Feuerwerke. Tolle Erfahrung und viel zu gucken für Groß und Klein!
Zeit: 13:00-16:30 Uhr
Ort: Die Parade geht an der Mott und Canal Street entlang, über East Broadway bis zur Manhattan Bridge und windet sich durch den Sara D. Roosevelt Park über die Forsythe und Eldrige Straße bis zur Grand Street.
Kostenlos
16. März: Irische St. Patricks Day Parade
Am St. Patricks Day sind wir alle Irisch. Über 250000 Teilnehmer laufen in grün gekleidet in der Parade und um die zwei Millionen Menschen gucken sich dieses Spektakel an.
Zeit: ab 11 Uhr
Ort: Die Parade beginnt in der 44th Street und geht über die 5th Avenue bis zur 86th Street. Seid früh da, um euch einen guten Platz zu sichern.
Kostenlos
6. April: Schottische Tartan Parade
Feiere die schottische Herkunft mit ganz vielen Kilts, Dudelsäcken und traditionellen Tänzen mit über 35000 Teilnehmern und 30000 Zuschauern.
Zeit: ab 14 Uhr
Ort: Sie beginnt in der West 45th Straße und geht über die 6th Avenue bis zur 55th Straße.
Kostenlos
April: Kirschblüten Festival Brooklyn Botanic Garden
Jedes Jahr im April blühen die Kirschbäume im Botanic Garden in Brooklyn. Es regnet rosafarbene Blätter und ist eine super Kulisse für Bilder oder einen schönen Spaziergang. Einen Bericht über einen Besuch im Brooklyn Botanic Garden findet ihr hier.
Zeit: genaue Blütezeit kann ab März abgeschätzt werden
Ort: Brooklyn Botanic Garden
Kinder unter 12: kostenlos, Kinder & Jugendliche ab 12: $8, Erwachsene: $15
Mai: Japan Day§
Dieser Tag wird genutzt um die japanische Kultur nahe zu bringen. Es wird kostenloses Essen der japanischen Küche zum probieren angeboten sowie tolle Performances für die gesamte Familie.
Zeit: genaues Datum wird noch bekanntgegeben
Ort: Central Park
1 & 8. Juni: NYC Multicultural Festival
Besucht ein Event voller live Performances, Arts & Crafts, Essen und weiteres, Fashion, Spiele für Kinder, Photo Booths, riesige Video Games und vieles mehr aus vielen verschiedenen Kulturen. Lasst uns unsere Vielseitigkeit feiern!
Zeit/Ort: 1. Juni von 12 Uhr – 18 Uhr,  St. Nicholas Avenue, Harlem NY
8. Juni von 11 Uhr -19 Uhr, Jackie Robinson Park (Bandshell), NY
Kostenlos
2. Juni Israel Parade
Die 5th Avenue wird blau und weiß, wenn über 30 Wagen mit Musik und Blaskapellen die größte Feier Israels weltweit zelebrieren. Im Anschluss findet im Central Park noch ein Konzert statt.
Zeit: 11 Uhr – 16 Uhr
Ort: Die Parade beginnt in der 5th Avenue an der 57th Straße und geht bis zur 74th Straße
Kostenlos
9. Juni Puerto Rico Parade
Feiert "muchas voces" (eine Nation – viele Stimmen) zusammen mit der Puertoricanischen Gemeinschaft. Kunst und Kultur wird in vollen Zügen präsentiert!
Zeit: 11 Uhr – 17 Uhr
Ort: wird noch bekannt gegeben
Kostenlos
Weitere Events werden im Laufe des Jahres ergänzt.
Merkt euch schon einmal den 21. September vor! Dort findet die große Steubenparade statt, an der wir die deutsche Kultur feiern! CityKinder wird natürlich wieder bei der Parade mitlaufen, und wenn ihr auch mitlaufen wollt, dann meldet euch doch einfach bei uns!
Leave us a comment!