Follow our CityErleben blog to get periodic updates on the best activities with or without your kids like museums, playgrounds, festivals, free programs, day trips and weekend excursions. Get the best out of NYC tested by fellow CityKinder Moms & Dads and our contributors.
"New York Für Dich" Queens Night Market
May 13th 2019, 10am
comments: 0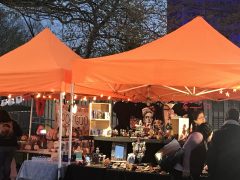 Es ist wieder so weit. Wenn auch noch ein wenig frisch draußen, der "Queens International Night Market" hat zum 5ten Mal infolge die Pforten geöffnet. Wir haben einige der Sneak Preview Tickets ergattert und uns schon mal durch die ganzen Leckereien gegessen.
Nach einiger Parkplatzsuche sind wir angekommen beim legendären "Queens Night Market". Eine saisonale Attraktion. Unter freiem Himmel. Musik. Menschen. Gute Laune. Stände mit liebevollen selbstgemachten Produkten. Und vor allem: Köstlichste Gerüche aus der ganzen Welt. Über 80 Länder preisen ihre Lieblingsgerichte an. Das Schöne ist die ganz eigene Note eines jeden Standes. Oft sind es Verkäufer aus kleineren Restaurants und Imbissbuden aus  einem der 5 Stadtteile New York's. Der Markt ist leicht zu finden, ist er doch auf dem Freigelände direkt hinter der "New York Hall of Science" im Corona Park aufgebaut.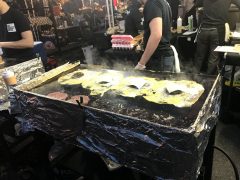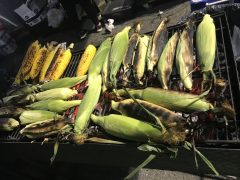 Hong Kong Street Food oder doch lieber Burmese Bites?
Versucht am besten Beides und noch viel mehr. Die Portionen sind prima zum Teilen, nicht zu groß und kosten meist nicht mehr als $5. Empfehlenswert sind "Chicken Satay Lilit" und "Oto Oto" vom Indonesienstand. Ote Otse ist eine vegetarische, panierte Gemüsemischung.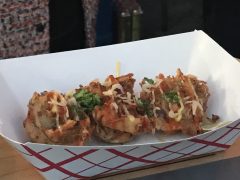 Für Kinder ein Traum hingegen ist der handgemachte Lolli. In liebevoller Detailarbeit wird heißer Zucker zu Karamell und akribisch auf eine Platte zu einem Kunstwerk gegossen.  Nach dem Trocknen ist der Lolli fertig. Zu schade zum Essen finden die Meisten, denn die Kinder laufen stolz mit ihrem Kunstwerk in der Hand herum. Es geht bei den Ständen nicht nur um das fertige Essen. Vielmehr geben das Zuschauen der Essenskünstler endlose Inspiration.
Ihr werdet schnell feststellen, dass einige Stände stärker frequentiert sind und längere Schlangen haben als andere. Die längste Schlange an diesem Abend haben eindeutig die spanischen Fleischspieße zu verzeichnen. Wir wollten uns allerdings davon nicht beieinflussen lassen. Vielmehr war es unser Ziel, auch unbekannte Speisen auszuprobieren und mit Budenbesitzern ins Gespräch zu kommen. Das geht nun mal besser, wenn die Schlange nicht so lang ist☺.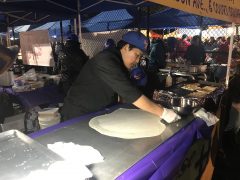 Das ist aber noch nicht alles
Neben den Essensständen reihen sich Buden mit handgearbeiteten Kunstwerken und Schmuck aneinander. Bei jedem Termin sogt Live-Musik für das entsprechende Ambiente. Künstler aus verschiedenen Musikstilen treten auf der Bühne auf. Im Entertainmentbereich sind genug Bänke und Tische. Es ist ausreichend Platz, so dass Kinder prima herumtoben können.
Termine und Öffnungszeiten:
Zwischen dem 4.Mai und 26. Oktober findet der Markt immer samstags ab 17:00 bis Mitternacht statt. Der Eintritt ist frei.
Anreisetipps
47-01 111th St, Corona, NY 11368.
Da der Markt sehr beliebt in der Nachbarschaft und bei außerhalb von Queens anreisenden Gästen ist, ist man mit den öffentlichen Verkehrsmitteln immer auf der sicheren Seite.
Es gibt einen großen Parkplatz, der zur "New York Science Hall" gehört.
Subway: Fahrt mit der Linie 7 bis zur 111th Station. Lauft 4 Blöcke südlich, bis ihr an einer Straßenüberführung vorbeikommt. Von hier aus könnt ihr den Markt schon sehen, direkt hinter der "Hall of Science" zu eurer linken Seite.
Bus: nehmt den Q23 oder den Q58 zur Corona Avenue x 108 Street oder den Q48 bis zur 111Street x Roosevelt Avenue. Roosevelt
Go to MTA.INFO for transit directions and updates or CLICK HERE to get directions from your location
Diesen und noch viele andere Tipps bekommt ihr in unserer App "New York für Dich", die App für den zweiten Blick, kostenlos im App Store zum downloaden.
Leave us a comment!