Follow our CityErleben blog to get periodic updates on the best activities with or without your kids like museums, playgrounds, festivals, free programs, day trips and weekend excursions. Get the best out of NYC tested by fellow CityKinder Moms & Dads and our contributors.
"New York Für Dich" Singapore Orchid Show im Botanischen Garten
April 8th 2019, 10am
comments: 0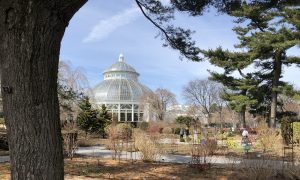 Eigentlich fühlt sich noch alles nach Winter an. Der Rasen ist noch sehr blass und an den Sträuchern keine Blüten weit und breit. Im "Enid A. Haupt Conservatory", einem der Haupthäuser ist das anders. Hier findet noch bis zum 28. April die 17. Orchideenausstellung statt.
Singapore Orchid Show
Schon beim Betreten fühlt man subtropische Luft. Es ist warm und ja, so hat sich das bei unserem letzten Singapurbesuch auch angefühlt: Eine feuchte Wärme und man wähnt sich sofort im Sommer. Unvorstellbar, aber real.
Singapur selbst hat nicht nur aufgrund des warmen Klimas, sondern auch aufgrund der vielfältigen Flora den Namen "City in a Garden". Die Vision von Minister Lee Kuan Yew: Straßen sollen Pflanzprojekte integrieren. Neue Gebäude müssen auch heute noch per Gesetz Grünanlagen haben.
Dieses Paradies erwartet Euch ab sofort mitten in der Bronx. Hier wartet die Orchideenshow im Botanischen Garten. Das komplette Areal ist ein einziger Blumenteppich mit einzigartigen und farbenfrohen Pflanzen.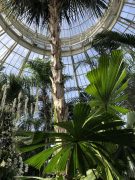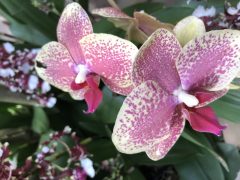 Zum ersten Mal hat der Botanische Garten New York einer selbst gezüchteten Orchideenpflanze einen Namen gegeben: Kürzlich wurde bekannt gegeben, das eine Orchidee aus der Sammlung nach der Musikerin und Schauspielerin Awkwafina benannt wurde, die in "Crazy Rich Asians" und "Ocean's 8" zu sehen war.
Die der Schauspielerin gewidmete Orchidee hat eine lebendige, tiefe rosarote Farbe.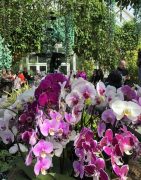 Orchideen bei Nacht
Die fantastische Orchideenshow ist noch nicht alles: der Botanische Garten NY hat sich noch ein paar besondere Events ausgedacht, zum Beispiel die "Orchids Evenings". Sie finden am 5.,6.,12.,13.,19.,20.,26., und 27. April von 19:00 bis 22:00 Uhr statt. Da es eine Abendveranstaltung ist an der auch Cocktails ausgeschenkt werden, ist der Eintritt erst ab 21 Jahren gestattet. Man kann also gemütlich an den Orchideen vorbeischlendern und sich an den Ständen vom Bronx-Night-Market kulinarisch versorgen. Für originale Rhythmen des Nachtlebens in Singapur und Unterhaltung sorgten die Künstlerin Eli Tyler.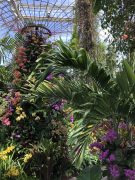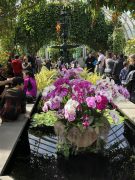 Dies ist eine Sonderveranstaltung, für die man eine zusätzliche Karte braucht. $28 für Mitglieder des NYBG und $38 für Nichtmitglieder.
Auch was für Kinder
Doch lieber die Kinder mitnehmen? Auch dafür ist der Botanische Garten bestens geeignet, wenn auch zu einer anderen Tageszeit. Unabhängig von der Orchideenshow ist der Botanische Garten mit seinem unerschöpflichen Mitmachangebot für Kinder der ideale Ort, seine Freizeit in der Natur zu verbringen. Kinder haben hier ihren eigenen Abenteuergarten, in dem sie rumtoben, spielen und andere Kinder kennenlernen können.
Es gibt außerdem ein sehr umfangreiches, angeleitetes Kinderprogramm. Beispiele sind Basteln in der Natur, Entdeckerprogramm, Feriencamps etc.
Da die Tageskarten generell recht teuer sind und der Park an sich riesig, sollte man hier eine 1-Jahresmitgliedschaft überlegen. Für $135 hat man ein ganzes Jahr lang mit 2 Erwachsenen und bis zu 5 Kindern Eintritt. In dieser Mitgliedschaft inkludiert sind 8 Parktickets sowie 4 einmalige Gästekarten.
Adresse: 2900 Southern Boulevard, Bronx, NY 10458. Öffentliche Verkehrsmittel: Die Metro North Linie hält direkt am Botanischen Garten. Mit der Subway mit den Linien B, D oder 4 bis Bedford Park Blvd, dann Bus Bx26, der am "Garden's Mosholu Entrance" hält.
Diesen und viele andere Tipps abseits vom Mainstream findet ihr im App "New York für Dich", kostenlos herunterzuladen, aktuelles im New York Blog oder auf Facebook und Instagram.
Leave us a comment!