Follow our CityErleben blog to get periodic updates on the best activities with or without your kids like museums, playgrounds, festivals, free programs, day trips and weekend excursions. Get the best out of NYC tested by fellow CityKinder Moms & Dads and our contributors.
"New York Für Dich" – New York Hall of Science
October 22nd 2019, 10am
comments: 0
Draußen wird es kälter, das Wetter unbeständiger. Gut so. Ab in die "New York Hall of Science". Ein absolutes Muss mit und ohne Kinder. Kinder und Jugendliche lieben dieses Museum. Statt öder Fakten wartet überall die Mitmachnummer. Fast alles darf ausprobiert werden. Spielerisch und entdeckend könnt ihr naturwissenschaftliche Gesetze und Thesen überprüfen. So kann euer Nachwuchs und ihr natürlich auch Riesenseifenblasen erzeugen und sehen, welchen Einfluss die Stärke der Luftreibung hat. Ihr wolltet euren Kindern schon immer die Gauß'sche Normalverteilung erklären, hattet aber nie eine Idee, wie? Alles kein Problem hier. Anhand von Kugeln die durch Trichter rollen, verstehen wir in Zukunft auch dieses Phänomen.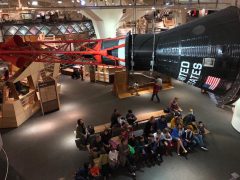 Im Design Lab könnt ihr an Workshops teilnehmen und z.B. was Tolles mit 3-D Druckern gestalten. Es gibt hier außerdem die Möglichkeit, freie Projekte zu kreieren wie Bücher binden, Schienen aus Klebeband, Magnetische Motoren und vieles mehr.
Toll ist der "Science Playground". Ein Outdoor Spielplatz, bei der die Archimedes-Schraube immer und immer wieder ausprobiert werden darf. Es gibt einen riesigen Hebelarm, Luftröhren und ein großes Kletternetz.
Temporäre Highlights sind Sonderausstellungen. Bis zum 26. Januar 2020 findet eine riesige Ausstellung zur Legokunst statt. Weitere Ausstellungen sind "Frauen im Weltall" (noch bis Januar 2020) und "Solar Cat" (bis Ende des Jahres).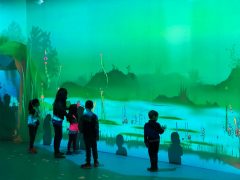 Und wem das alles noch nicht genug ist, der kann auf der hauseigenen Anlage Minigolf spielen.
Ob der vielen Attraktionen sollte man sich als Familie überlegen, ob sich eine Jahresmitgliedschaft lohnt. So hat man eigentlich immer was Tolles vor bei schlechtem Wetter.
Die New York Hall of Science findet ihr im Corona Park in Queens.
Anfahrt: Mit dem Auto könnt ihr 47-01 111th St, Corona, NY 11368 ins Navi eingeben. Mit einer Membership kostet das Parken nichts. Ansonsten findet man auch recht leicht Parkmöglichkeiten auf der Straße. Ihr kommt auch mit der Subwaylinie 7 hin. Steigt bei der 111 th Street aus.
Diesen und noch viele andere Tipps bekommt ihr in der App "New York für Dich", die App für den zweiten Blick, kostenlos im App Store zum downloaden.
Leave us a comment!