Follow our CityErleben blog to get periodic updates on the best activities with or without your kids like museums, playgrounds, festivals, free programs, day trips and weekend excursions. Get the best out of NYC tested by fellow CityKinder Moms & Dads and our contributors.
PIRATES OF THE HUDSON: The Greatest Story Never Told!!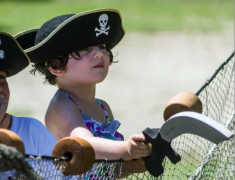 Packt alle Piraten und Smutjes ein und geht auf Piraten Schatzsuche am Hudson River entlang gen Norden.Historic Hudson Valley und Philipsburg Manor bieten von Mai bis November viele lernreiche Besuche fuer Kinder und Erwachsene an. Die Bilderbuch Szenerie von Philipsburg Manor, das Grundstueck des ehemaligen Adolph Phillips ein bekannter und wohlhabender Haendler des 18. Jahunderts setzt sich dafuer perfekt in Szene.
Aber am Samstag den 11. July kommen die Piraten hier zu Besuch und erzaehlen ihre Geschichten. Denn im 18. Jahrundert wurden fast alle Gueter, ob Gold oder Silber oder sogar einfache Haushaltsgueter per Schiff ueber tausende von Meilen ueber Europa, Afrika und die Karibik nach New York und den Hudson River hoch nach Norden verfrachtet.
Man kann sich mit unserer heutigen modernen Technology und Infrastruktur gar nicht mehr vorstellen, was es damals gekostet hat Ware ueber die Ozeane zu schaffen. Damals gab es keine Computer, die einem mit einem Mausklick die Ware vor die Tuer lieferte. Es war ein regelrechtes Abenteuer und keiner wusste, ob das Schiff wieder heil zurueck kommen wuerde…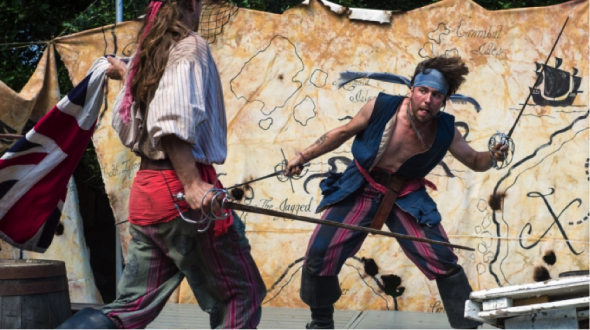 Oft wurden die Schiffe von Piraten ueberfallen und ausgepluendert.
Ueber dies und vieles mehr erfahrt ihr in Phillips Manor & auch einer Vorstellung in der Historischen Tarrytown Music Hall. Dieses Jahr ist die Piraten Crew auch wieder mit dabei und stellt ein Piratenfest auf die Beine mit Vorfuehrungen, Schatzsuche, Meerjungfrauen und Piraten Training selbst fuer die kleinsten Piraten unter Euch. Also zieht die Augenklappe an, setzt ein furchterregendes Gesicht auf und macht Euch auf den Weg…
Anreise: Philipsburg Manor 381 North Broadway in Sleepy Hollow, NY
Metro North Hudson Line – Phillips Manor stop – zu Fuss etwa 15 Minuten
Via Metro North Hudson Line – Tarrytown stop – mit dem Taxi etwa 5 Minuten Fahrt
Via Auto – 287 Exit 9 Richtung Tarrytown. Links auf die Rt.119 zur Route 9, dort rechts gen Norden – durch Tarrytown & Sleepy Hollow hindurch, vor der Dutch Cemetary am Ortsausgang links
Anreise: Tarrytown Music Hall 13 Main Street in Tarrytown, NY
Via Metro North Hudson Line – Tarrytown stop – zu Fuss etwa 10 Minuten
Via Auto – 287 Exit 9 Richtung Tarrytown. Links auf die Rt.119 zur Route 9, dort rechts gen Norden – links auf die Main Street. Music Hall ist auf der rechten Seite.
Historic Hudson Valley Website  & Telefonnummer: (914) 631-8200
Weitere Informationen ueber Philipsburg Manor finden Sie hier!
Special Events
June 26-28: A Night on Fire
July 11: Pirates of the Hudson
September 5-7: CORNucopia: A Hudson Valley Festival
Oct-Nov Nights: Horseman's Hollow
Leave us a comment!