Follow our CityErleben blog to get periodic updates on the best activities with or without your kids like museums, playgrounds, festivals, free programs, day trips and weekend excursions. Get the best out of NYC tested by fellow CityKinder Moms & Dads and our contributors.
Vatertag 2019 in NYC mit der Familie
June 10th 2019, 9am
comments: 0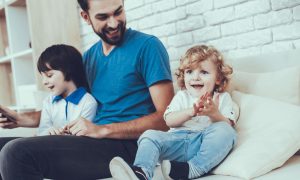 Lasst uns alle Väter, Onkel und Vaterfiguren in unserem Leben feiern! Vatertag ist dieses Jahr am Sonntage den 16. Juni und vielleicht ist der perfekte Tag für euren Vater, auf der Couch zu chillen, oder aber einen unvergesslichen Tag mit den Kindern zu verbringen. Wir haben für euch ein paar Ideen gesammelt, was ihr besonderes, an diesem Tag unternehmen könnt.
1. Seile los! South Street Seaport Museum & Segeltour
Segle durch den New Yorker Hafen mit der historischen Segelschoner von 1885. Die Tickets für die Segeltour beinhalten auch einen Besuch zu den historischen Booten des Museums.
Erkundigt euch vorher, über die Segelzeiten, auf deren Website.
2. Klettern wie die Affen: Dumbo boulders 
7,800 sqft reines Klettervergnügen aufgeteilt in zwei Schwierigkeits Bereiche. "The Cliff" ist für Kinder ab 6 Jahre erlaubt. Schuhleih ist in dem Eintrittspreis bereits enthalten. Da die Kletterwand draußen ist, hängen die Öffnungszeiten vom Wetter ab – am besten vorher kurz anrufen!
3. Essen, Essen, Essen auf dem Queens Night Market 
Hier findet die gesamte Familie etwas leckeres zu essen – jeder bekommt seinen Willen ohne Streitigkeiten!
4. Musik und Tanz mit "The Grateful Dead" und "Stellas Blues Band"
"The Rock n' Roll Playhouse" möchte Kindern die Musik von ihren Eltern näherbringen. Ein tolles Event für Groß und Klein.
5. Vatertag im Children's Museum of Manhattan
CMOM präsentiert auch zum Vatertag ein weites Angebot an Aktivitäten. Von Storytime, bis hin zu Basteln mit Panzertape. Papa wird es genauso lieben, wie die Kinder!
6. Verbringt einen Tag am Strand! 
Mit der Subway könnt ihr gant einfach nach Coney Island fahren und dort einen schönen, entspannten Tag am Strand verbringen.
Viel Spaß und genießt den Tag!
Leave us a comment!