Got a question or need some "how-to" advice to make life in NYC smooth sailing? Review our expert blog featuring topics ranging from parenting advice, product reviews the NY school system, important laws, taxes, moving tips, and more.
Baby's First Walking Shoes
November 20th 2015, 9am
comments: 0
Baby's First Walking Shoes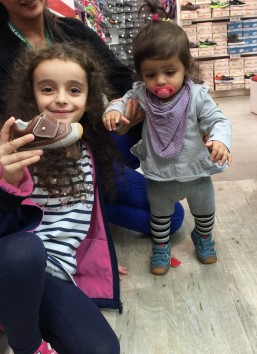 We've all received those cute little sneakers during our pregnancy from family and friends that mean well.
But are those really going to be your baby's first shoes? I personally didn't have any use for the cute little sneakers, but now that my daughter can stand and already tries to take a step or two I had to buy her some walking shoes. The research was adventurous, but I was lucky enough to have been in Germany where these things are much easier for me to handle, when I bought her first pair of walking shoes.
I want to share a few things that I've learned during my research:
SIZE MATTERS
Do not order your baby's first shoes online, at least not until you go to a real shoe store to get baby's feed measured. Remember, our little ones are too young to let us know that the shoe is too small, or too big.
WEAR SOCKS
Have your baby wear socks, don't forget them, because usually they will wear their shoes with socks.
FOOT WIDTH
Does your baby have really wide feet? Speak to a professional that can help you.
Now if after all of this your baby's big toe has enough wiggle room than you can start thinking about purchasing this shoe.
NOTE
Please do not buy shoes bigger since your child will grow into them one day. It's important that your baby has the support s/he needs now and not in a couple of months.
THE RIGHT SHOE
BENTABLE

You want to be sure that the shoe bents easily in your hand. Do not buy any plastic or cheap shoes that have a hard sole. If they are stiff it can be really bad for you baby.
BUY NEW
Never let your baby use other baby's shoes. Trust me, this is the one area where you can gladly reject any hand me downs. You baby needs new shoes that will adjust to his/her feet.
NO BOOTS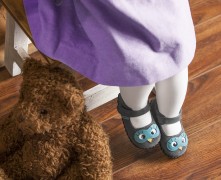 As cute as they may look, hold off on boots. Even if it's wintertime. Your baby's ankle needs to be exposed.
Now that you have the right size and know how you can venture into buying shoes online since they seem to be cheaper than from the store.
Enjoy your Schnäppchenjagd!
TOP WALKING SHOES
1. See Kai Run
2. Pediped
3. Stride Rite
4. Livie & Luca
Leave us a comment!