Got a question or need some "how-to" advice to make life in NYC smooth sailing? Review our expert blog featuring topics ranging from parenting advice, product reviews the NY school system, important laws, taxes, moving tips, and more.
Boxing Lunch – A Daily Challenge
September 29th 2019, 11am
comments: 0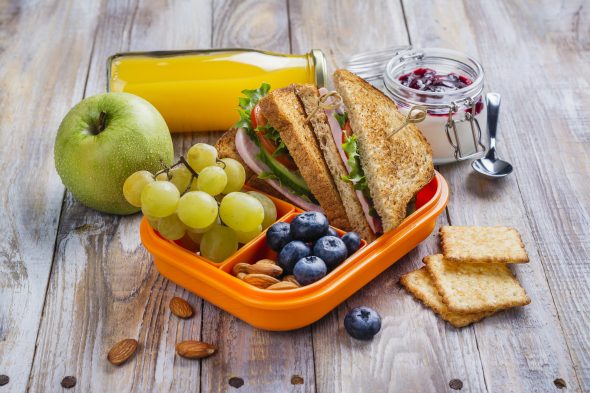 Now, that everyone is back to school and the daily grind is taking over, there is one topic coming up again and again– school lunch.
Besides preparing breakfast and getting everybody ready to leave the house, this is a daily challenge every parent with school-age kids has to face. Those of  you who are new to parenthood might wonder at this point –can it really be that difficult to make and pack a sandwich, throw in a juice box and cut some fruits and vegetables? 
First of all, we are not talking about the ordinary 'Pausenbrot' everyone knows from their time at school. We are talking about preparing a nutritious meal for an 8-hour school day which is yummy and fun enough so they will actually eat it. You need to think about snacks (like sliced fruits and vegetables, cereal bars or sandwiches) and an actual lunch as even young kids are not leaving school around noon as in many places in Germany.
Whether it's lack of time, lack of ingredients or a lack of ideas – some days it might be all at once – it can feel like added stress on an already hectic morning. To prevent you being desperate over boxing lunch for your kids, CityKinder has thought about how to make things easier for you. Well, while we actually can't help preparing your kids boxes, we have gathered some tips from experienced moms that might help to make the process easier.
So, let's figure this out together:
First of all, you will need to find out what works best for your kids to eat during a rather short lunch break (sometimes as little as 15 minutes). What do they like or dislike? What do they like at home but won't eat at school (for example yoghurt that's not cold anymore….)? And how can you ensure enough variety and avoid making the meal plan too boring? Due to the long day at school, you want  to ensure your kids are actually eating their lunch, otherwise you are facing cranky, "hangry" little ones when picking them up.
Just to give you an idea how you could change your boxed lunch routine from time to time, we asked around the German school community for recommendations. After the obvious sandwiches and bagels, vegetarian sushi was one of the most popular, followed by pasta, 'Kaiserschmarren', or even soups. If you would like to try something new, there are tons of inspirational recipe books out there like 'Little Bento' from Michele Olivier.
Our take on it? If you do have a lot of extra time on your hands and your kids are not picky eaters, give it a try. We found the recipes a little too fancy –  not sure most kids would really eat 'Crunchy Asian Chopped Salad' (it sounds delicious though). But who knows their kids better than you?
It's all in the prep….
Another valuable tip one of the moms we interviewed gave us, is to always be prepared. Do you really have the time prepping a whole meal in the morning while making breakfast for the entire family? Maybe, if you're one of those early risers (we heard they exist….). Instead, try preparing the boxes the evening before or cooke enough dinner so you only need to warm up some leftovers in he morning.
Build up an emergency stack: We've all been there –  you've overslept, your child had a tantrum on what to wear you discover you fed the last slice of bread to the birds yesterday with your little ones, and it's too late to make pasta (again!). This would be a moment when you open your secret drawer with your emergency stack with all the favorite snacks and bars, your kids love to eat. One mom we talked to always keeps some leftovers or emergency muffins in the freezer. And in case everything goes wrong, see if you can repurpose something left over from breakfast.
The perfect gear
Last but not least, you will need the perfect lunch box.  There are regular plastic containers (think Tupper ware), but you will notice quickly that you need a lot of them to box a balanced lunch and in the end the dishwasher will be packed in addition to the everyday stuff. To solve that kind of problem we discovered some great solutions: containers that keep your food warm (or cold) and  multi-compartment lunch boxes, inspired by the bento box.
We will introduce a few of our favorites:
Thermos –  If your kids loves hot soups while it is cold outside, this container is super cool keeping food nice and warm. It even includes a foldable spoon! Nothing to worry about anymore, provided you don't lose it.
Yumbox – This box is fantastic. It's inspired by the actual Bento Box you'll order at your favorite Asian restaurant. It has up to six compartments that you can fill with several snacks, fruits, vegetables, nuts or even dips due to its leak proof manufacturing with a molded silicone lid. The tray is removable and 'easy' to clean – however, there are still 6 tiny compartments you better wash by hand.
Planet Box – This lunch box is designed after the same principle as described with the yumbox but made from stainless steel to minimize our use of plastic. It has 5 compartments and includes one small and one big dip container to ensure they are leakproof. You can put it into the dishwasher which makes it really easy to clean.
If you want to ensure your kids are not mixing up their lunch boxes – after all the other moms have read this article, too – mark them with a waterproof label.
Leave us a comment!