Got a question or need some "how-to" advice to make life in NYC smooth sailing? Review our expert blog featuring topics ranging from parenting advice, product reviews the NY school system, important laws, taxes, moving tips, and more.
Die Adventszeit – Tradition, Geschichte und Bastelideen
November 29th 2018, 5pm
comments: 0
Advent ist lateinisch und bedeutet "Ankunft". Wir bezeichnen damit die Zeit vor Weihnachten und es gibt einige Traditionen, die uns die Zeit des Wartens versüßen sollen.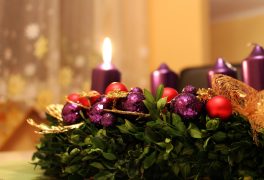 Zum einen gibt es den Adventskranz, bei dem wir an jedem Adventssonntag eine weitere der vier Kerze anzünden. Des weiteren gibt es den Adventskalender. Vom 1. Dezember bis zum heiligen Abend am 24. wird ein "Türchen" geöffnet hinter dem sich entweder Schokolade, ein kleines Geschenk oder ein Spruch und Bild versteckt. Der Kreativität sind bei der Durchführung keine Grenzen gesetzt.
Ideen für einen Adventskranz findet ihr auf unserem Pinterest Board.
Geschichte:
Den Ursprung hat der Adventskalender im 19. Jahrhundert im deutschsprachigen Raum. In der katholischen Kirche war es Tradition jeden Tag eine Adventsmesse zu halten aber da die Warterei besonders für die Kinder schwer war und das Zeitgefühl bei Kindern nicht so ausgeprägt ist, haben Eltern die ersten Adventskalender erfunden. Um 1840 gab es die ersten Kalender. Die Eltern malten 24 Kreidestriche an die Wand und die Kinder durften jeden Tag einen weg wischen. Oder es wurden Tag für Tag Bilder mit weihnachtlichen Motiven an die Wand gehängt.
Eine Tradition, die sich in einigen Dörfer, Gemeinden und Familien bis heute gehalten hat ist, dass jeden Tag ein weiterer Strohhalm oder Feder in die Krippe gelegt wird, damit das Jesuskind gemütlich liegt.
Die "Weihnachtsuhr" entstand zum Ende des 19. Jahrhundert. Die Uhr war in 24 Teile aufgeteilt und jeden Tag bewegte der Zeiger sich ein Feld weiter.
1902 wurde die erste gedruckte Weihnachtsuhr produziert und 1904 gab es den ersten Ableger eines Adventskalenders, so wie wir ihn heute kennen. Dieser Kalender wurde von Gerhard Lang entworfen und enthielt 24 Verse sowie Bilder von ihm.
Gerhard Lang hatte jedes Jahr eine neue Idee, wie der Adventskalender auszusehen hatte und so entwarf er den ersten Kalender, welcher mit Schokolade gefüllt war.
Adventskalender in den USA:
In den letzten Jahren ist das Konzept des Adventskalenders auch in den USA bekannter geworden, sodass es die Schokoladen-Kalender in vielen Supermärkten zu kaufen gibt (z.B. Trader Joe's, IKEA, Aldi, Shop Rite…).
Auch die besonderen Kalender mit Spielzeug gibt es inzwischen beispielsweise bei Amazon zu kaufen.
Adventskalender selber basteln:
Auf unserem Pinterest Board haben wir einige Bastelanleitungen verlinkt.
Falls ihr nicht ganz so kreativ seid und lieber Täschen füllen wollt haben wir hier zwei schöne Kalender für euch rausgesucht. Auch für Last-Minute-Bastler sind die perfekt!
Ihr wisst noch nicht, was ihr in den Adventskalender für eure Kinder stecken sollt?
Guckt doch in unseren Blogpost "Adventskalender für Kinder füllen", dort haben wir viele weitere Ideen aufgelistet.
Viel Spaß!
Leave us a comment!