Got a question or need some "how-to" advice to make life in NYC smooth sailing? Review our expert blog featuring topics ranging from parenting advice, product reviews the NY school system, important laws, taxes, moving tips, and more.
Kinderbooks Buchtipp des Monats – Kiste
May 18th 2021, 11am
comments: 0
Für Leseanfänger und Zweisprachige ist die Hürde zum Selberlesen recht hoch. Comics können da helfen – und die Reihe Kiste eignet sich dabei ganz hervorragend für alle von 7 -10 Jahren. Der Junge Mattis ist ein Bastler. Er wundert sich ganz schön, als er eine Kiste findet, die ihn anspricht. Und weil sie auch gern tüftelt und bastelt (auch wenn  sie zwei linke Hände hat), freunden sich die beiden an. Als Mattis erfährt, dass Kiste früher einem echten Zauberer gehört hat, der jetzt leider als Schlange sein Dasein fristet, ist er sofort bereit zu helfen… Die Reihe bietet allerhand auf einmal, es geht um Freundschaft und Abenteuer, Situationen wie aus dem echten Leben und Fantasy. Dabei gibt es sehr sympathische und lebendige Charaktere mit hohem Identifikationspotenzial. Und lustig ist es auch noch.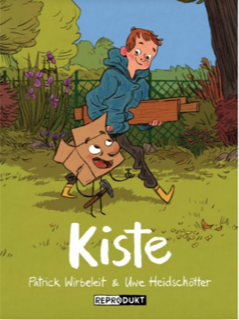 Patrick Wirbeleit /  Uwe Heidschötter
KISTE (Band 1)
Reprodukt Verlag
Ab ca 7 Jahren
Leave us a comment!