Curious who else is living in NYC? We are, too! We feature moms and dads from all walks of life with interesting stories, businesses, and family constellations. See who's in town, what they love about NYC, and why they stay.
Alexandra Brueckner | TV-Journalistin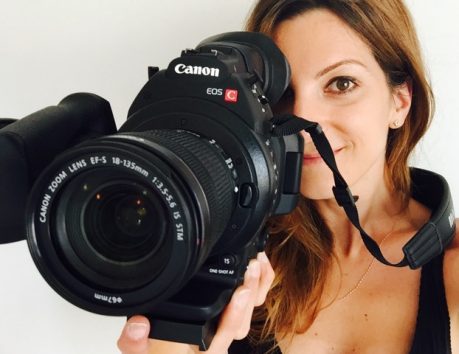 Alexandra Brueckner ist TV-Journalistin und wird bald zum ersten Mal Mutter. Im Interview berichtet die Deutsche von ihrem Leben in New York und erzählt, wie sie sich auf die Geburt (und die Zeit danach) vorbereitet.
Name: Alexandra Brueckner
In New York seit: Dezember 2014
Anzahl der Kinder? Wann sind die geboren? In Produktion
Ich wohne in (Stadtteil): East Village, Manhattan
Beruf(ung): TV-Journalistin
Website: https://www.torial.com/alexandra.brueckner
Was hat dich nach New York gebracht?
Mein Freund hat das verlockende Angebot seiner Firma bekommen, für eine begrenzte Zeit nach New York zu gehen. Wir waren gerade in eine neue gemeinsame Wohnung in München gezogen. So haben wir schließlich Ein- und Auszugsparty in Einem gefeiert.
Wie sieht ein typischer Tag bei dir aus?
Ich bin Frühaufsteherin und starte meist mit viel Energie in den Tag (nicht immer zur Freude meines Freundes, der am Wochenende auch gern mal ausschläft). Nach einer Joggingrunde entlang des East River bis zur Brooklyn Bridge und zurück gönne ich mir meist ein Frühstück auf unserem kleinen Balkon, den ich so liebe. Da sitze ich dann bei schönem Wetter und recherchiere im Internet Themen für verschiedene Fernsehsender, vorwiegend für die ARD. Wenn ich genug davon habe und in Deutschland sowieso längst Feierabend ist, spaziere ich oft durch Manhattan und lasse mich von der Stadt inspirieren. Meist stoße ich dabei auf die spannendsten Geschichten, denn die liegen ja bekanntlich auf der Straße.
Du bist im siebten Monat schwanger. Wie bereitest du dich auf die Geburt und die ersten Wochen als frische Mutter vor? Hast du Tipps für andere werdende Mütter?
Man sollte meinen, New York sei kein Ort für Kinder. Doch jetzt, wo ich selbst eines erwarte, fallen mir die vielen öffentlichen Parks und Spielplätze erst richtig auf. Ich habe mich in einer "Mom's group" angemeldet, die es in fast jedem Stadtviertel gibt. Das sind Plattformen für (werdende) Mütter, die eine prima Gelegenheit bieten, um Erfahrungen auszutauschen und dabei noch neue Freundinnen zu finden, die gerade das Gleiche durchmachen. Ist man dann erst mal Mama, hat man schon ein kleines Netzwerk an Gleichgesinnten und fühlt sich in der neuen Situation nicht so allein.
Wie hat deine Familie reagiert, als sie erfahren hat, dass das erste Enkelkind so weit weg auf die Welt kommen wird?
Neben der großen Neuigkeit hatten wir auch gleich die passende Flugverbindung parat, die die frisch gebackenen Großeltern kurz nach der Geburt zu ihrem neuen Enkel bringt. Außerdem werden wir einen extra langen Weihnachtsurlaub in Deutschland einlegen. Das hat unsere Familien erst einmal besänftigt.
Welche deutschen Werte, Vorstellungen und Traditionen möchtet ihr eurem Kind vermitteln?
Verbindlichkeit. Die vermisse ich hier, sie hat aber in unserer Generation generell abgenommen. Keiner möchte mehr verbindlichen Zusagen machen, sondern sich lieber alle Türen offen halten: im Beruf wie auch im Privatleben. Das fängt schon bei Verabredungen fürs Wochenende an. Ich schließe mich da selbst nicht aus. Trotzdem finde ich es keine besonders schöne Entwicklung. Ich würde mir wünschen, dass die nächste Generation diesen Wert wieder mehr zu schätzen weiß.
Was liebst Du an New York besonders?
Den East River Park. Er ist Teil meiner Joggingstrecke und ich würde ihn als Stiefschwester der schicken Parks am Hudson River bezeichnen. In diesem östlichen Teil Manhattans hat die Gentrifizierung noch nicht vollends stattgefunden. Ich mag den Klang der spanischen Musik und den Duft von Barbecue am Uferrand. Ich sehe die Gruppe von Chinesen, die sich hier jeden Morgen in traditioneller Kampfkunst übt, und beobachte die Angler und die Schiffe auf meiner Laufstrecke bis zur Brooklyn Bridge.
Und was stört dich?
Schlaglöcher. Manchmal habe ich das Gefühl, New York ist ein einziges großes Schlagloch. Man findet etwa alle zwei Meter eins. Da ich mich in Manhattan fast ausschließlich mit dem Fahrrad fortbewege, treiben mich diese täglich in den Wahnsinn.
An welchem Ort kannst du zur Ruhe kommen?
Zur Ruhe kommen heißt für mich nicht, an einem ruhigen Ort sein zu müssen. Ganz im Gegenteil: am besten entspannen kann ich in einem New Yorker Straßencafé. Wenn ich dort sitze und die Menschen und die Umgebung beobachte – dann kann ich am besten abschalten.
Was gibt es nur in New York?
Popcorn mit chicken-chocolate flavor. Jedenfalls habe ich das bislang nur in New York frisch serviert bekommen.
Hast du das Gefühl, dass dich die Stadt verändert hat?
Ich habe mich an die Freundlichkeit der Mitmenschen gewöhnt. Ob oberflächlich oder nicht. Wenn ich zu Besuch in Deutschland bin, fällt mir erst auf, wie griesgrämig oder schlecht gelaunt dort die Verkäufer in den Läden und Supermärkten oft schauen. Die kleinen Smalltalks an den Kassen in New York, die ich zu Beginn so überflüssig fand, fehlen mir dann richtig.
Gibt es etwas, das du an deiner Heimat vermisst?
Ein Gläschen Wein am Flussufer oder bei einem Picknick zu genießen. Alkohol ist hier auf öffentlichen Plätzen verboten. Und meinen Wein in einer braunen Papiertüte verstecken zu müssen oder aus einem Plastikbecher zu trinken – da komme ich mir vor, als wäre ich wieder 15 Jahre alt.
Wann hattest du das Gefühl, die Amerikaner wirklich verstanden zu haben?
Das habe ich bis heute nicht. Mit der Sprache klappt es aber inzwischen sehr gut.
Merken
Merken
Merken
Leave us a comment!