Curious who else is living in NYC? We are, too! We feature moms and dads from all walks of life with interesting stories, businesses, and family constellations. See who's in town, what they love about NYC, and why they stay.
Jamila Mohamad Hooker – Foreign Postcards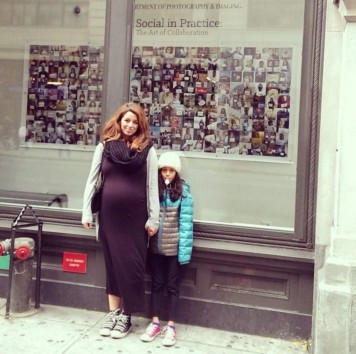 Jamila Mohamad Hooker
In New York seit: May 2008
Anzahl der Kinder? Wann sind die geboren? Samya (8) und Numa (6 Monate)
Ich wohne in (Stadtteil): Upper East Side in Manhattan
Beruf(ung): Künstlerin, Mutter, Social Media und Digital Account Manager …
Mein Projekt: Foreign Postcards
Website: www.JamilaMohamadHooker.com
Was hat Dich nach New York gebracht?
Ich bin 2008 nach meinem Studium in Orientalistik und American Studies an der Ruhr-Universität nach New York gekommen. Damals war ich 24 Jahre alt und wusste nicht genau was ich beruflich machen wollte. Ich habe viele verschiedene Sachen ausprobiert, als Editorin für einen Online Search Engine gearbeitet, Deutsch unterrichtet, übersetzt etc. bis ich irgendwann per Zufall in die Kunstschiene geraten will, allerdings damals als Administrator und nicht als Künstlerin. Ich muss gestehen, dass ich damals "Art" nicht so besonders faszinierend fand, da ich viele Kunstwerke, die ich in meinem Leben gesehen habe, einfach als viel zu abstrakt empfunden habe. Mein Beruf hat meine Meinung allerdings schnell verändert und mich sogar inspiriert auch künstlerisch aktiv zu werden. Im Jahre 2013 habe ich mein Projekt Foreign Postcards gestartet, dass auch sehr schnell gewachsen ist und an dem mein kleines Kunstherz sehr hängt.
Wie bist Du auf die Idee mit Foreign Postcards gekommen? Was hat Dich inspiriert?
Ich habe beruflich an einem Wochenendseminar von Creative Capital teilgenommen. Das Wochenende hat mich so sehr inspiriert, dass ich Sonntag Nacht bis 3 Uhr wach war, an meinem Konzept für Foreign Postcards gearbeitet habe, meine Webseite gekauft habe und Montag morgen um 8, bevor ich zur Arbeit gegangen bin, habe ich mein Projekt zitternd "gelaunched". Auf dem Weg zur Subway hatte ich bereits meine erste Submission für eine Postkarte. Vor 9 Uhr waren es bereits 15 und am Abend 50.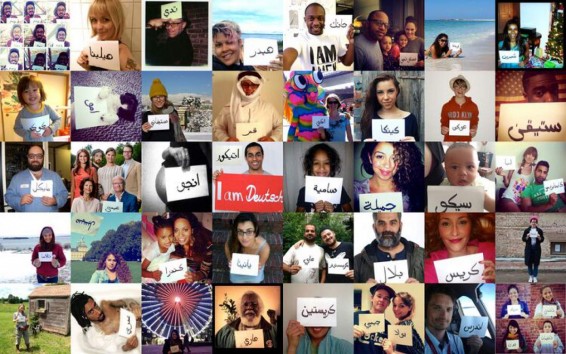 Worum geht es genau bei Foreign Postcards?
Ich versuche durch mein Kunstprojekt zu zeigen, dass die arabische Sprache nur eine Sprache ist wie jede Andere. Ich wurde in Beirut, Libanon geboren und bin mit 3 Jahren mit meiner Familie nach Deutschland gezogen. Seit 9/11 ist es als Araberin sehr verletzend zu sehen, wie aus mir, meiner Familie, meiner Sprache, meiner Region "der Feind" geworden ist. Und ich glaube dass man nur etwas erreichen kann, wenn man Leute anspornt aktiv zu werden. Wie auch immer das aussehen mag. Ich war bis jetzt auch sehr erfolgreich mit Foreign Postcards und war mit meinem Projekt vor einigen Monaten in einer Kunstshow an NYU Tisch.
Was liebst Du an New York besonders?
Ich habe über zwei Jahre gebraucht bis ich mich an das Leben in New York gewöhnt habe. Mittlerweile bin ich hier Zuhause und könnte mir nicht vorstellen wegzuziehen (außer auf Hawaii oder die Bahamas). Ich liebe an New York, dass man hier sein kann, wie man wirklich ist. Dass es egal ist wie man sich anzieht, ob man eine Katze auf der Schulter herumträgt oder eine lebhafte Unterhaltung mit einer Wand führt.
Was magst Du nicht so gerne oder was nervt Dich an New York oder dem Lebensstil hier?
Dass die Leute zu selten ihren hektischen Alltag stoppen und einfach mal tief Luft holen. Wir müssen nicht mit 20 km/h die Subway Station herunter rennen um den Zug zu erwischen, der gerade in die Station fährt. Der nächste kommt doch eh in 5-6 Minuten (meistens).
Gibt es etwas das Du an Deiner Heimat vermisst?
Ja. Kinderschokolade, Lakritz, Knödel, Rinderrouladen, meine Familie, die gute deutsche Ordentlichkeit und ich finde es schade, dass meine Kinder so einiges hier nicht kennen lernen werden, dass ich in Deutschland als Kind so toll und wichtig fand. Der Polizist der in der Grundschule vorbei kommt um den Fahrradführersein auszustellen, das Seepferdchen, dass man sich in der 2. Klasse so hart erschwimmen muss, das Kindersparbuch in der Kreissparkasse, die Scheibe Wurst beim Metzger, die 80 Millionen Sandspielplätze.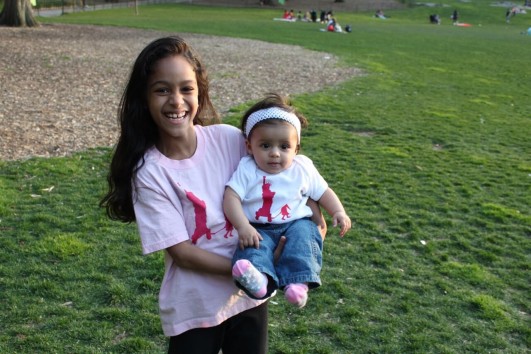 Wie viele Sprachen sprechen Deine Kinder?
Meine ältere Tochter Samya (8) spricht nur Englisch. Sie ist die Tochter meines Partners und ich versuche ihr ab und an etwas Deutsch beizubringen, was gar nicht so einfach ist, weil man so schnell ins Englische zurück fällt. Mit meiner kleinen Tochter Numa (6 Monate) rede ich sehr viel Deutsch und meine Mutter redet (über Skype) täglich Arabisch mit ihr.
Ist es wichtig für Dich, dass sie Deine Sprache und Kultur kennen?
Das ist mir auf jeden Fall sehr wichtig. Sprache ist ein großer Teil unserer Kultur und ich möchte meinen Kindern so viel mit auf den Weg geben wie nur möglich.
Was ist Deine liebste Beschäftigung in New York?
Spazieren gehen, Fahrrad fahren, im Central Park liegen und die Sonne genießen.
Hast Du einen Tipp für Neuankömmlinge?
Hmmm… Nichts ist so wie es scheint in NY. Lasst euch nicht einschüchtern und glaubt an euch. Und versucht so viele verschiedene Restaurants abzuklappern wie nur möglich. Die Auswahl ist unfassbar groß und toll!
Leave us a comment!