Curious who else is living in NYC? We are, too! We feature moms and dads from all walks of life with interesting stories, businesses, and family constellations. See who's in town, what they love about NYC, and why they stay.
Lars Halter | Vom Parkplatz zur Wall Street
Vom Parkplatz zur Wall Street – der amerikanische Traum eines Deutschen Journalisten in NY
Lars Halter beschreibt sein jüngeres Ich als naiv und blauäugig. Der Grund dafür ist, dass Lars nach abgeschlossenem Journalismus Studium in Deutschland und nach einer kurzen Beschäftigung bei einem lokalen Blatt beschlossen hat, in die weite Welt zu ziehen. Sein Ziel waren die Vereinigten Staaten von Amerika.
So landete Lars im Juni 1998 mit Sack und Pack in Amerika, wo er als freiberuflicher Journalist arbeiten wollte, doch ihm wurde schnell klar, dass man ohne Kontakte im Journalismusgeschäft zu haben, nicht weit kommt.
Der Plan war Reportagen auf seinen Reisen durch die Staaten schreiben und diese dann an deutsche Publikationen verkaufen. Doch so leicht wird man als quasi unbekannter Freischaffender nicht anerkannt.
Nach einer 4 monatigen Reise, die in Los Angeles startete kam er in New York an. In Los Angeles hatte er auf einem Parkplatz in der Nähe von Santa Monica Pier in einem alten Wohnmobil geschlafen. In New York verbrachte er die ersten Tage in einer Jugendherberge in Harlem. Von dort aus klapperte er die 'üblichen deutschen Anlaufstellen' für einen Journalisten ab: Axel Springer Verlag, Burda, Lufthansa und schliesslich auch das Generalkonsulat. Dort traf Lars auf eine Gruppe Bayern in voller Tracht und er wunderte sich was seine Landleute denn im heimatlichen Kostüm in New York treiben.
Es stellte sich heraus, dass das Generalkonsulat ein Empfangsessen zur Feier der Steubenparade veranstalteten. Lars wurde spontan zu dem Essen eingeladen und kaufte sich deshalb von seinen letzten Ersparnissen einen Anzug. Beim Banquet ist er für einen Kollegen als Journalist eingesprungen und ein Interview geleitet. So konnte er von seinen Kenntnissen überzeugen.
Durch etwas Glück zur rechten Zeit am rechten Ort zu sein, landete Lars seinen ersten, obwohl schlecht bezahlten Job als Reporter für eine deutsche Publikation. Da er aus der Jugendherberge irgendwann ausziehen musste, zog er für rund 6 Wochen in den Nebenraum der Redaktion. "Da war eine alte Matraze auf einem Tisch und die habe ich genommen."
"In New York ist alles kontaktbedingt," so Lars über seinen Weg zum Erfolg. Angefangen hat alles mit dem Kommittee der Steuben Parade, deren Mitglieder Lars schnell befreundete. Ein paar Jahre später wurde er auch Mitglied und war bis 2013 Vorsitzender und Direktor der Parade.
Im Sommer 2001 beteiligte sich Lars als freiwilliger Helfer bei Michael Bloomberg's Wahlkampf für den Bürgermeister von New York. So lernte er viele Leute kennen die seine Arbeit schätzetn und ihn für weitere Aufträge weiterempfohlen. Kurz darauf arbeitete Lars für das Handelsblatt und als Korrespondent für das Berliner Tagesblatt.
Unter anderem lernte Lars auch den TV Reporter Martin Koch kennen, der ihm anbot für dessen Agentur zu arbeiten. "Ich habe zuerst nicht realisiert, dass er bekannt ist. Ich bin mit ihm einfach auf ein Bier gegangen," erinnerte sich Lars. Nach 2 Probetagen stand fest, dass er Berichte schneller verfassen konnte als so mancher Praktikant und so begann seine Zeit bei Wall Street Correspondents.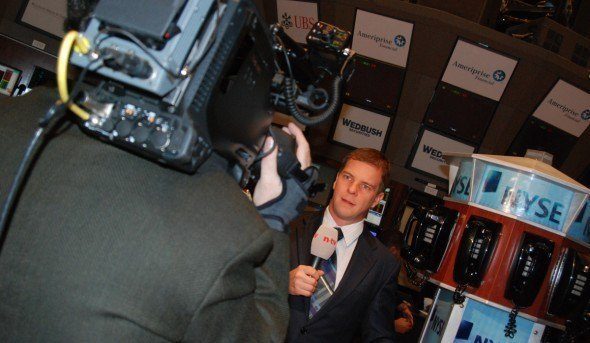 Eigentlich wollte Lars nur 3 Jahre im Ausland bleiben, aber der Erfolg hielt ihn in Amerika. "Man kann alles erreichen in Amerika. In Deutschland schaut man mehr auf Qualifikationen, wie zum Beispiel (Schul)noten, die nicht relevant sind." Vor allem seine Arbeit im Wirschaftsjournalismus betrachtend denkt Lars, dass er in Deutschland ohne spezifisches Wirtschaftsstudium wahrscheinlich nicht die gleichen Möglichkeiten bekommen hätte im diesem Beruf aufzusteigen.
Vor allem seit der Geburt seines jetzt 1 jährigen Sohnes Harvey, mit dem er ausschliesslich Deutsch spricht, denkt Lars daran nach Deutschland zurück zu gehen. Er ist nicht vom amerikanischen Schulsystem nicht sehr begeistert. Da seine Frau Christine eine Amerikanerin deutscher Abstammung ist, kann auch sie sich vorstellen für die Ausbildung ihres Sohnes über den Atlantik zu gehen.
"Je mehr Orte man gesehen hat und dort einige Zeit verbracht hat, desto unwahrscheinlicher ist es, dass es irgendwo 100% perfekt ist." Diese Einstellung hilft ihm eine Entscheidung zu treffen, wenn es um den Wohnsitz geht. Bis es soweit ist geniesst er jedoch die schönen Seiten an New York. Lars besucht gerne deutsche Restaurants und Bars. Sein Geheimtip ist eine kleine Strasse im Financial District in der man draussen sitzen kann und sein Bier trinkt und kaum von Touristen gestört wird.
In den USA hat Lars in den letzten Jahren das 2 Parteiensystem immer kritischer beurteilt. "Die Kluft zwischen Arm und Reich ist aus dem Ufer gelaufen," sagt Lars über seinen Besuch der Stadt Detroit, Illinois. Es sei wie eine Geisterstadt gewesen der er eine wenig versprechende Zukunft voraussagt.
"Ich ärgere mich, dass ich mich vor 15 Jahren nicht selbst aufgenommen habe," sagt er über seine Englisch-Kenntnisse. Es würde ihn sehr interessieren wie sie sich in den letzten 15 Jahren entwickelt haben.
Leave us a comment!