Curious who else is living in NYC? We are, too! We feature moms and dads from all walks of life with interesting stories, businesses, and family constellations. See who's in town, what they love about NYC, and why they stay.
Simone Tan – Arbonne Beraterin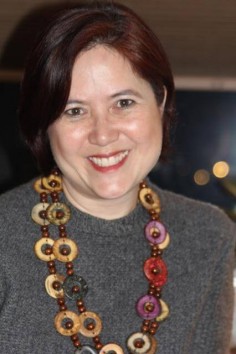 Name: Simone Tan
In New York seit: 1997
Anzahl der Kinder? Wann sind die geboren? Eine Tochter 2001
Ich wohne in (Stadtteil): Bay Ridge, Brooklyn
Beruf(ung): Hansdampf in allen Gassen. Hauptberuflich war ich Instruktionsdesigner. Davor war Ich als Anwältin in Kalifornien tätig. In den letzten Jahren hatte ich zwei Etsy Shops, leitete das New Yorker Etsy Street Team, und nun arbeite ich als Beraterin bei Arbonne.
Mein Business: Arbonne Beraterin
Website: simonetan.arbonne.com
Du bist halb Amerikanerin und halb Chinesin und in Deutschland aufgewachsen. Haben Deine Eltern Dich mehrsprachig erzogen? Welche Sprache hast Du zuerst gesprochen?
Meine Eltern haben sich in Deutschland beim Studium kennengelernt und hatten eine "deutsche Beziehung". Deshalb war Deutsch unsere Familiensprache. Wir hatten natürlich englische Kinderbücher etc. im Haus aber eigentlich habe ich mit meiner Mutter erst als Teenager täglich englisch gesprochen. Ach und dann waren da noch die zwei Jahre in der chinesischen Samstagsschule in Hamburg. Hmm, eher nicht so erfolgreich. . .
Was hat Dich nach New York gebracht? Wolltest Du immer schon in den USA leben?
Mein Mann. Ich lernte ihn in San Francisco kennen wo ich mit seiner Schwester in einer Anwaltskanzlei arbeitete. Nach 10 Jahren in San Francisco versprach er mir, dass wir nach Manhattan ziehen würden und nun sind wir in Bay Ridge, Brooklyn zwei Blöcke von dem Haus entfernt in dem er aufwuchs. Glücklicherweise finde ich Bay Ridge und Brooklyn toll. Es ist schön, dass ich mit meiner Tochter auf dem Weg nach Hause an seinem alten Haus vorbeigehen und ihr den Baum den ihr Grossvater dort gepflanzt hat zeigen kann.
Mir scheint es, dass ich schon immer hier leben wollte. Ursprünglich musste ich drei Jahre in den USA leben um meinen amerikanischen Pass zu behalten. Deswegen hatten meine Eltern und ich schon immer geplant dass ich nach dem Abitur hier studieren würde. Nach dem Studium fing ich dann an hier zu arbeiten und jetzt lebe ich seit (schluck) 30 Jahren in den USA.
Was machst Du beruflich? Zur Zeit bin ich bei Arbonne, International als Beraterin tätig. Arbonne vertreibt auf Naturbasis hergestellte Kosmetik und Ernährungszusatzprodukte. Für mich ist es der ideale Job weil ich unabhängig mein eigenes Geschäft aufbauen und meine berufliche Tätigkeit nahtlos in meine anderen Verpflichtungen einflechten kann.
Hast Du eine ausgewogene Work-Life Balance? TIpps fuer andere Eltern?
Ich bin ziemlich glücklich mit meiner Work-Life Balance. Als Beraterin arbeite ich von zu Hause aus, und kann meine Termine mit meinen Familienverpflichtungen übereinstimmen.
Was liebst Du an New York besonders?
Die Vielfalt der Menschen hier. Meine Nachbarn zur Rechten sind Chinesen, zur Linken wohnen vier Generationen einer Grossfamilie die zum Teil italienisch sind und zum Teil aus der Karibik stammen. Gegenüber lebt eine Familie aus Palästina.
Was magst Du nicht so gerne oder was nervt Dich an New York oder dem Lebensstil hier?
Der ständige Wettbewerb. Wegen der Bevölkerungsdichte hat man andauernd dass Gefühl um alles kämpfen zu müssen, ob es sich jetzt um den Kindergartenplatz oder den letzten Milchkarton vor dem Schneesturm handelt.
Gibt es etwas das Du an Deutschland vermisst? Lebt Deine Familie noch dort?
Meine Mutter und mein Bruder und seine Familie leben noch in Deutschland, sowie etliche Cousins und Cousinen.
Das Leben in Deutschland scheint mir ein bisschen weniger stressig zu sein. Das soziale Netz ist einfach stärker. Jeder kann sich eine Universitätsausbildung leisten ohne gleich in den Bankrott zu gehen.
Wie viele Sprachen spricht Deine Tochter? Identifiziert sie sich mit Deutschland?
Meine Tochter spricht English und genug Deutsch um sich durchzuschlagen. In der Schule hat sie jetzt mit Spanisch angefangen. Es ist schade, dass es hier nur verhältnismässig wenige Schulen gibt die Deutsch anbieten. Vor ein paar Wochen teilte sie mir mit, dass sie vorhat in Deutschland zu studieren. Während ich ihr das zwar immer als eine Möglichkeit vorgeschlagen habe, war ich trotzdem überrascht.
Ist es wichtig für Dich, dass sie Deine Sprache und Kultur kennt? Was tust Du für die Sprachentwicklung?
Meine Familienkultur ist ein bisschen verzwickt. Bei uns gibt es den Nikolaus, Kinder kriegen rote Umschläge mit Geld für das chinesische Neue Jahr, und der Weihnachtsmann kommt am ersten Weihnachtstag und nicht zu Heilig Abend. Als meine Tochter jünger war sprach ich konsequent deutsch mit ihr. Wir haben oft Die Sendung mit der Maus gekuckt und meine Eltern haben uns ständig neue Bücher geschickt. Glücklicherweise habe ich dann auch eine gute deutsche Freundin in der Nachbarschaft gefunden die eine Tochter im gleichen Alter hat. Zusammen haben wir unsere eigene mini-Vorschule veranstaltet. Später ist sie dann einmal die Woche zum Deutschunterricht in Park Slope gegangen bis sie in die Mittelstufe kam.
Was ist Deine liebste Beschäftigung in New York?
Neue Ecken und Nachbarschaften kennenzulernen. Letzte Woche war ich in Sunset Park, Brooklyn in Industry City. Dort gibt es einen versteckten Hinterhof an dem mehrere Essensstände und kleine Restaurants angeschlossen sind. Das wird dort bald wie in Dumbo aussehen.
Hast Du einen Tipp für Neuankömmlinge?
Nachbarschaft:
Bay Ridge ist wunderschön mit vielen Restaurants, kleinen Läden und Century 21
Die besten Strände in New York sind Coney Island und Brighton Beach
Restaurants:
Brooklyn Beet Company
Cafe Zaiya im Kinokuniya Buchladen
Shoppen:
Better Than Jam in Bushwick und auf Governors Island
Gudrun Sjoden
Aktivität:
Children's Museum of the Arts hat ein vielfältiges Program
Governors Island ist ein tolles Ausflugsziel
Um Arbonne Produkte umsonst auszuprobieren oder einen Themenabend zu buchen, einfach eine Mail an Simone schicken: simonetanconsultant@gmail.com
Leave us a comment!