Die besten Gesellschaftsspiele für Kids von zwei bis zwölf
October 23rd 2019, 5pm
comments: 0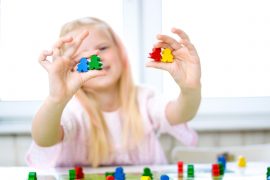 Die kältere Jahreszeit steht vor der Tür und viele Eltern sind auf der Suche nach neuen Beschäftigungsideen für ihre Kids. Deswegen haben wir Anatol nach seinen Spiele-Favoriten für Kids zwischen zwei und zwölf Jahren gefragt.
Auf unserem CityPortrait Blog findet ihr das CityPortrait unseres Kollegen Anatol, der hauptberuflich im Spielecafé arbeitet.
Hier sind seine Empfehlungen:
ab 10 Jahre:
Ein Kartenspiel mit variablem Spielbrett welches die Rennstrecke bildet. Jeder muss dabei seine Kartenhand so optimieren, dass er gut über Berge und Flüsse kommt. Das Spiel ist sehr gut abstufbar und bietet einfache bis schwere Strecken für die ganze Familie.
MSRP $34.99
ab 12 Jahre:
Raiders of the North Sea (Verlag: Renegade) | Räuber der Nordsee (Schwerkraft-Verlag) 2-4 Spieler
Hört sich wild an, ist aber relativ friedlich. Man stellt mit 2 Arbeitern eine Crew auf, die dann über die See zieht und zunächst in Häfen, später dann bei Wachposten und in Klöster Punkte sammelt, indem man diese überfällt. Viel planen und ein bischen Glück hilft dabei
MSRP $49.99
Alle Spiele stehen (in der Englischen Variante) auch in den beiden New Yorker Spielecafés, für die Anatol arbeitet, zum Spielen und zum Verkauf zur Verfügung:
FROHES GEWINNEN!
Leave us a comment!