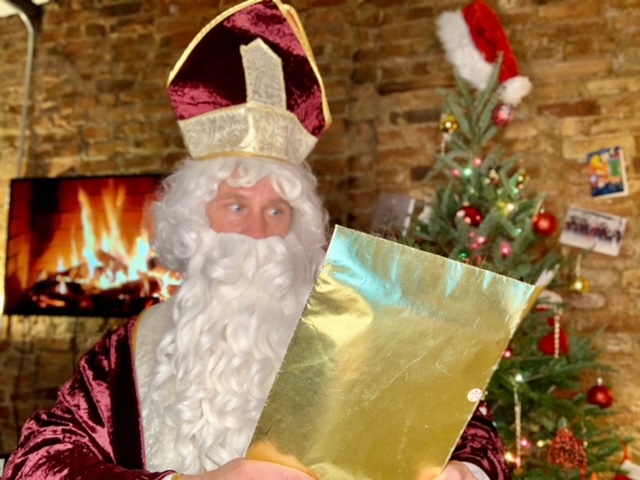 Da der Online Nikolausbesuch letztes Jahr so gut geklappt hat, holen wir ihn dieses Jahr auch nochmal über Zoom ins Haus! CityKinder, Rellas Spielhaus und Kinderbooks haben sich zusammen getan um mit Euch und Euren Kindern das 2. Advent Wochenende und Nikolaus zu feiern.
Und wie funktioniert das?
Wir treffen uns via Zoom und singen Lieder und lesen Geschichten vor. Wir schicken Euch vorher natürlich die Liedtexte zu. Wir teilen dann die Familien in 3 Breakout Rooms auf: Lieder | Geschichten | Nikolaus und rotieren so in kleinen Gruppen. Zum Ende kommen alle wieder zusammen und die Kinder können dem Nikolaus das vorher eingeübte Lied gemeinsam vorsingen.
Geschenke
Es wäre toll, wenn ihr eine Kleinigkeit "vom Nikolaus" bereit hättet um Euren Kindern im Namen vom Nikolaus zu geben (hat er natürlich socially distant vorher abgeliefert).
Das Goldene Buch
Damit der Nikolaus jedes Kind persönlich ansprechen kann, bitte in der Anmeldung folgendes angeben:
Namen und Alter des Kindes/Kinder

2 Sachen, die sie gut machen

1 Sache, die sie besser machen könnten (aufräumen, auf die Eltern hören, mit den Geschwistern besser vertragen etc…
Donation
Wir würde das Event gerne as unseren jährlichen Fundraiser nutzen. Daher bitten wir um eine $15 – $20 donation pro Familie 🙏.
Testimonials
No Reviews yet. Be the first one!

Want to become
a testimonial?
You loved the event, service or product? Like to recommend it? Just send us your review.
Write review


Planning your
own event
If you have a great party or event idea for the CityKinder community, let us know!
Send us a mail