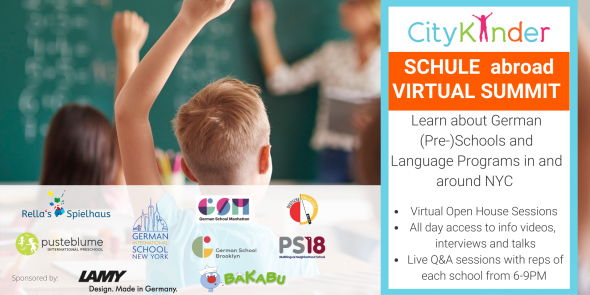 Learn about the benefits of bilingual education and German School Options in the NYC Tri-State area
Next Summit Date: Thursday, January 7, 2021
Everything is different in 2020! Due to the current pandemic it's much harder to attend open house events and visit potential schools for your child… We want to make it easy!
CityKinder invites you to a Virtual German School Summit where you can learn about the different German immersion schools and language programs.
If you have a child that's ready for preschool or school soon or if you are interested in language programs accompanying your child's school, this is for you!
What's in it for you?
Learn about the benefits of bilingualism and get an overview of the German preschool, school and language programs in and around NYC from the comfort of your sofa!
How does the SUMMIT work? 
ALL DAY: Summit Access
Throughout the day can visit the summit platform to watch pre-recorded interviews and videos:
Überblick über das Schulsystem von New York: Public, Charter und Privatschulen
Warum es wichtig ist, sich früh für bilinguale Schulbildung zu entscheiden
Third Culture Kids: Chancen und Herausforderungen
Qualität statt Quantität: erfolgreicher Mehrspracherwerb im realen Leben
Warum das Deutsche International Abitur eine grosse Chance für Kinder im Ausland ist
Live-Session: 12:30PM – 1PM
Überblick über das New Yorker Schulsystem
+++++
What does it cost? 
It's free!
With your Basic Ticket you get:
All-Day access
Schulbroschüre: Deutsche Kindergärten und Schulen in und um NYC
Or upgrade to our VIP Ticket for $47 which includes:
SUMMIT VIP PACKAGE OFFER: $47 
Participating Schools & Programs: 
German International School New York
German School Brooklyn
German School Manhattan
Rella's Spielhaus
Pusteblume International Preschool
Kinderhaus Brooklyn
PS 18 German Language Program
Deutsche Sprachschule New York
Deutsches Haus at NYU
Testimonials
No Reviews yet. Be the first one!

Want to become
a testimonial?
You loved the event, service or product? Like to recommend it? Just send us your review.
Write review


Planning your
own event
If you have a great party or event idea for the CityKinder community, let us know!
Send us a mail