Hiring immediately – Rella's Spielhaus sucht INFANT/TODDLER BABY NURSE/TEACHER

Website Rella's Spielhaus
Manhattan's First German Immersion Nursery & Preschool
We are looking for a dedicated, kind INFANT/TODDLER BABY NURSE/TEACHER, German speaker preferred
Wir sind klein, aber fein – we hope a fitting way to describe us! And we are excited to meet you if you are interested to join our fun, loyal and hard-working team as a Baby Nurse and Infant Teacher in our Infant/Toddler Room. We are looking for that special someone who deeply connects with our youngest ones.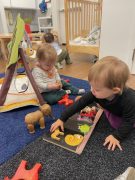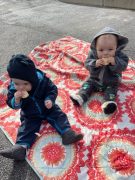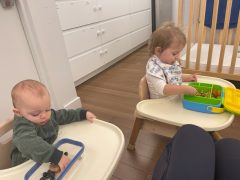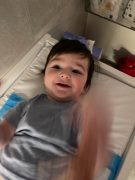 Rella's Spielhaus is looking for a dynamic, collaborative Infant/Toddler Teacher with whom we can share our excitement and growth with.
In this program, we speak German, so you will too, but we welcome any culture and background. The atmosphere is supportive, inclusive and we all work hand in hand.
As a Rella's Spielhaus infant/toddler teacher you will be co-responsible for the well-being between 6 and 8 infants and young toddlers between 6 months and 24 months together with one other teacher. This includes: Play, circle time, reading out aloud, beginning arts & crafts, bottle feeding, eating support, diaper changing, accompanying the kids to the playground and communication with the parent body.
Additional responsibilities include: After-care, classroom observations, staff training, and development, curriculum development and assessment, and day trip accompaniment.
COMPANY'S SELF-DESCRIPTION:
Rella's Spielhaus is proud to be a staple in the German-speaking community in Manhattan. Founded in 2011, now with a Day Care Center on the Upper West Side, multiple language classes for kids 0-12yrs, vibrant Summer Camps, our families and teachers are still, like on day one, our first priority. We are a nurturing, kind and innovative school combining the highest standards in the Early Childhood Industry, Bi-lingual and Bi-Cultural Teachings with mindful and inclusive care for the kids in our program.
Schedule:
– Full Time: Monday to Friday: 8:30am – 4:15pm (2 times/week after care until 5:15pm)
– Part Time employment possible
Open houses & parent orientations: 1 Weekend morning and 1 weekday evening every other month.
Salary:
$50 – $65K (Full Time Position) depending on previous professional experience and qualification.
Benefits: 
Health Insurance
SIMPLE IRA
Continuing Education
Paid sick days (if applicable)
Paid personal days (if applicable)
Qualifications:
Experience caring for Infants (required)
Experience as Nursery or Preschool Teacher in a similar Program (preferred)
Native or highly proficient German speaker (preferred )
Knowledge of Social Media (preferred)
Reports to:
Educational Director and Owner of Rella's Spielhaus
Interested? Send us an email with a Cover Letter and your Résumé:
Subject: Infant/Toddler Position
Attention: Barbara
Email: admin@rellasspielhaus.com
Wir freuen uns, von Dir zu hören!