Spandauer Damm 46
10459 Berlin
Telephone: +1 202 922 7791 | +49 30 3977 2888
Email: ayla@adomatimmigration.com
Contact: Ayla Adomat
Languages: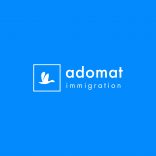 Adomat Immigration is a full-service US immigration firm, which helps individuals and corporate clients obtain visas and green cards to work, live and train in the United States. We have helped families, business professionals, managers, industry specialists, students and trainees, scholars and academics, artists, and athletes, among others, successfully receive US visas.
Having gone through the immigration process ourselves – both in the United States and in Germany – we know firsthand how daunting the immigration system can be. Our mission at Adomat Immigration is to be your ally and partner through the process and work together every step of the way. We are familiar with the needs of different clients – from individuals to large corporations. Our tailored services will meet your unique needs and we will work with you until your visa is approved.
Offices:
Berlin
Spandauer Damm 46
14059 Berlin
Tel: +49 30 3977 2888
Washington, DC Area
3033 Wilson Boulevard, Suite 700
Arlington, Virginia 22201
Tel: +202 922-7791
To schedule a consultation, please contact us at ayla@adomatimmigration.com.
Reviews:


Testimonials
No Reviews yet. Be the first one!

Want to become
a testimonial?
You loved the event, service or product? Like to recommend it? Just send us your review.
Write review


Service Listing
missing?
If you know a great service provider that is not listed yet, let us know!
Send us a mail