Telephone: (917) 547-3427‬
Website: lukasbaeskow.com/
Email: baeskow.lukas@gmail.com
Contact: Lukas Baeskow
Languages: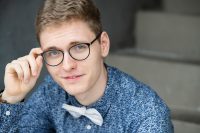 Lukas Baeskow is a 21-years-old German musical theater actor and magician, trained and based in New York City. He has performed at CityKinder events for a few years now and just recently added his magic flair to the ICH BIN EXPAT FAIR 2018, performing two magic shows for children.
Lukas offers magic shows for private and corporate events and entertains children and adults alike.
Children's Magic
Experienced in performing for children for many years, Lukas offers magic shows for birthday parties, Kindergartens, (pre-) schools, holidays, and other gatherings in both German and English. The kids will be actively engaged throughout the show and help Lukas master all of his tricks. Suitable from 3 years of age and up, Lukas is happy to incorporate your party theme and create unforgettable memories for the young guests. The parents can enjoy their time off during the show while the children are being entertained.
Adults' Magic
For adults, Lukas' broad range starts with close-up magic, suitable for business fairs and open social gatherings, performed for smaller groups. This allows the general networking and conversation at your party to continue without interruptions and attracts new potential customers. It especially helps keeping the children entertained while you introduce your business.
Additionally, he offers stand-up shows that will enchant your larger audience and guests at your birthday celebration, wedding, business opening, gala event, or business meetings.
Business Mini-Magic-Shows
For corporations and businesses, Lukas offers 5-10 minute mini magic shows to be performed during a break, quickly re-energizing everyone present. He is more than happy to incorporate your company's individual theme or message.
Inquire now to receive answers to your questions and to secure your upcoming event & date.
Check out my website for more information!
Testimonials
"We booked Lukas for our daughters 3. Birthday Party. The show was great and everyone enjoyed the magic! It was a great experience."Julia Stach
"Lukas was the main attraction at my son's 10 year old birthday party. He did a fantastic job entertaining eight 10 year old boys. His magic show was well rehearsed, well thought out, well timed, and age appropriate. Lukas was professional; he came on time, was well dressed and delivered exactly what I was expecting and what we had planned together. I have no reservations about recommending Lukas; in fact I am already planning when I can utilize his services again."Dave Blattberg (Parent, 10128 (Manhattan))

Want to become
a testimonial?
You loved the event, service or product? Like to recommend it? Just send us your review.
Write review


Service Listing
missing?
If you know a great service provider that is not listed yet, let us know!
Send us a mail