WeWork 115 W 18th St
New York, NY 10011
Telephone: (609) 529 7841
Website: www.jacobiteacher.com
Email: info@jacobiteacher.com
Contact: Nico Jacobi
Languages: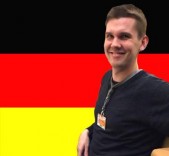 Nico Jacobi, 35, holds a Master's degree in teaching and education from the University of Cologne. He graduated in 2008 and taught German, Social Science, and Geography at German schools for the following seven years.
In June of 2015 he moved from Berlin to Manhattan and started offering private German tutoring services in the NYC area for all ages (kids 7 and up, teens, adults), levels and contexts: professional, personal, etc. He loves to teach and he is excited to help students reach their German language Goals!
Nico Jacobi uses his understanding of each student's method of learning to creatively cater to his or her individual needs. He studied under Professor Kersten Reich at University of Cologne, where he was influenced by the philosophies of John Dewey and constructivist teaching methods and he enjoys using a lot of these methods for his lessons.
Testimonials
"My daughter is 7, who has been taken German from Nico for few months. Nico is very patient,responsible and well prepared for his session. He is professional and very punctual. My daughter really enjoys his teaching. I strongly recommend Nico if you are also interested in learning German."Young
"Nico is a pleasure to work with. It was very important to me that I find a tutor who is a teacher and a native speaker: I wanted someone who could help me speak German naturally, and who could also assess my skill level and help push me to the next level. Nico has done that brilliantly. Within a session or two, it was quite clear to him what we needed to work on so that I could feel comfortable and keep pushing myself to learn. He really takes the time to make sure that I'm learning in the way that works best for me. He does not, at all, take a cookie-cutter approach to teaching. He understands, acknowledges, and acts upon the fact that everyone learns differently and he really takes the time to take care of his students' specific needs. I would recommend Nico to literally anyone at any level, who would like to learn to speak German or improve on existing skills."Courtney S. (Native New Yorker and Student of German)

Want to become
a testimonial?
You loved the event, service or product? Like to recommend it? Just send us your review.
Write review


Service Listing
missing?
If you know a great service provider that is not listed yet, let us know!
Send us a mail