1375 Broadway, Suite 504
New York, NY 10018
Telephone: 646.583.1206
Website: www.prewittlawfirm.com/
Email: francine@prewittlawfirm.com
Contact: Francine Prewitt
Languages: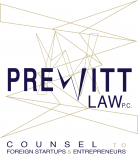 Ms. Prewitt is committed to representing clients in New York, across the United States and internationally. She is experienced and specializes in family relocation, work visas, green cards, EB-5 filings and U.S. citizenship.
Ms. Prewitt received France's equivalent of the Juris Doctor and a Master's degree in international business law from the Université de Panthéon-Sorbonne in Paris, France. She then went on to earn a Master of Laws in Banking, Corporate and Finance from Fordham Law School.
Ms. Prewitt has extensive experience advising foreign startups, entrepreneurs and individuals seeking to relocate to the U.S.. She regularly helps corporate clients as well as their foreign national employees navigate all dimensions of the complex immigration process. This includes the transfer of foreign national executives, managers and key employees to the United States. Ms. Prewitt also advises her clients in developing both long-term and short-term visa strategies.
Ms. Prewitt has the legal knowledge to handle even the most complex matters and she takes a focused approach to every case. In order to secure the best possible outcome, Ms. Prewitt works closely with clients to understand their goals for the case and she keeps them informed throughout the legal process.
Ms. Prewitt is admitted to practice law in the state New York.
Testimonials
No Reviews yet. Be the first one!

Want to become
a testimonial?
You loved the event, service or product? Like to recommend it? Just send us your review.
Write review


Service Listing
missing?
If you know a great service provider that is not listed yet, let us know!
Send us a mail