Summer & Holiday Camps
12 weeks of summer camps can be quite long (for us parents). Luckily there are plenty of amazing camp options to learn and improve German or explore plenty of other interests.
French Football Academy & Summer Camps
500 East 77th street apt 1503, New York, NY 10162
Telephone: +1 929-375-9536
Website: fffacademy.com
Email: cyril@fffacademy.com
Contact: Cyril Coisne
Languages: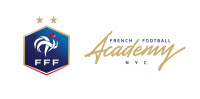 With the beautiful & sunny weather right now in NYC, we all have summer on our minds. But as NYC parents, when they think of summer, they're not exactly imagining poolside mimosas and beach vacays (well, (...)
Learn more

Print page


Did we miss
something?
If you know of a service or business that's not listed yet, let us know!
Send email


You want to be
listed?
If your business offers services that match the CityKinder community, learn your options.
Learn more