German Books & Magazines
German Books and Magazines
Featured
HEIMAT abroad Magazin
Website: www.heimatabroad.com/heimat-abroad-magazin
Email: info@heimatabroad.com
Contact: Gabi Hegan
Languages: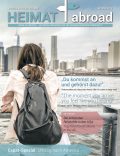 HEIMAT abroad offers a wealth of information covering all important aspects of Expat Living – individuals and families alike – no matter if they just arrived, are long-term residents, or are currently in (...)
Learn more

Kinderbooks
Telephone: (917) 717 - 3419
Website: www.kinderbooks.nyc
Email: beatrice@kinderbooks.nyc
Contact: Beatrice Beckmann
Languages:


Receive age-appropriate quality children's books every month: KinderBooks offers children's books subscriptions for children 0-10 years.  Free shipping. No late-fees. No long-term commitment. Starting at (...)
Learn more

Print page


Did we miss
anything?
Suggest a service or business that's not listed yet!
Send email


You want to be
listed?
You offer services or products of interest for the German-speaking families in NYC?
Submit your listing