Reach a highly targeted audience of German-speaking families in the greater NYC area with our banner ads, email blasts, native integration sponsored posts, service directory listings, or promotional and social media packages.
CityKinder readers are mostly young affluent families (about 70% expats and 30% long-term residents) who are interested in German, Swiss and Austrian culture, events, and services in the NYC area. We offer lifestyle, parenting, traveling and career tips for the modern family.
Home Page / ROS (Run of Site) Banner Advertising
Main page banner ads will get you the most eyeballs on your ad. Great for upcoming events, special promotions, etc.
Service Directory Listings
Expat families are more likely to engage with services where they know they are fully understood or which help their kids either feel at home or being exposed to the German language. From schools and classes to, doctors, lawyers, translators, restaurants, and photographers, our Directory has what parents are looking for within our community.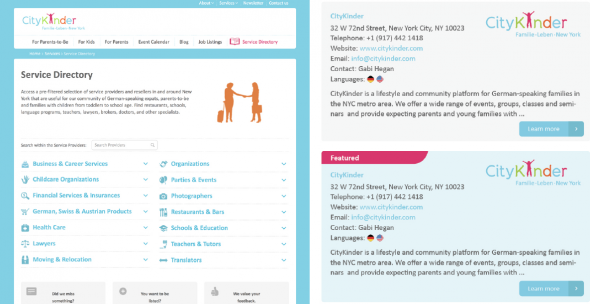 2018 Service Listing Info
Dedicated Emails and Eblasts
Take advantage of our highly targeted newsletter list and spread the word about your programs or business right into our subscribers' in boxes.
Learn more about our Dedicated emails, Newsletter and Special Edition Newsletter placements.
---
Ich bin Expat Fair
Would you like to meet 500+ clients face-to-face? CityKinder is hosting an annual Expat Fair on the first weekend of November for the German-speaking community of New York in cooperation with the German American Chamber of Commerce.
Contact melanie@ichbinexpatfair.com for more information how to become an exhibitor

---
Feel free to contact us to discuss your options!
For pricing, inquiries and package deals please email info@citykinder.com and we will contact you within 48 hours.
We are looking forward to working with you!

Gabi & CityKinder Team