Service Directory
Access a pre-filtered selection of service providers and resellers in and around New York that are useful for our community of German-speaking expats, parents-to-be and families with children from toddlers to school age. Find restaurants, schools, language programs, teachers, lawyers, brokers, doctors, and other specialists.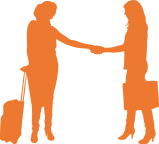 Did we miss
anything?
Suggest a service or business that's not listed yet!
Send email


You want to be
listed?
You offer services or products of interest for the German-speaking families in NYC?
Submit your listing


We value your
feedback.
Share what you loved or didn't love!
Write review